The C.R. Ecker Band Releases Trio of Modern Country Love Songs with "Touch of Lush"
Straight from the 2013 "Song of the Year" Award for its sassy, brassy hit, "Whisper Sweet Nothins" at Starliner's Europe, The C.R. Ecker Band of Los Angeles takes part in Country Music Association Week with the release of "No Turnin' Back," the last of three Fall 2013 love songs performed by male lead Michael Stanton, part of a three-pack described by critics as "a nod to traditional country with a touch of lush in the mix."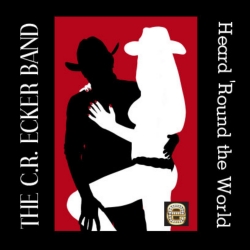 Los Angeles, CA, November 08, 2013 --(
PR.com
)-- The C.R. Ecker Band has completed the Fall 2013 launch of its "trifecta" of new country ballads in celebration of several stunning awards and recognitions this year, including "Song of the Year" at Starliners Europe, two nominations in country and Christian song categories during the late-November Hollywood Music in Media Awards and a band nomination at Artists in Music for 2014.
The most recent release, timed to Country Music Association Week in Nashville, is "No Turnin' Back" preceded during the past three weeks by "Our Fence Needs Mendin'" and "One More Night with You."
All were sung by long-time band lead male vocalist Michael Stanton, who also produced the songs.
Over the past six months, this Los Angeles-based group has racked up some impressive achievements in addition to its multi-genre victory in Holland, including Starliner's "Country Band of the Year" and its earlier naming as "Best Independent Country Band" at Real Country, Japan.
The C.R. Ecker Band was recently selected as one of the ten original "New Faces of Country" at Renegade Radio Nashville (The Official Nashville Internet Station) and garnered a Silver Star for "Band of the Year" at Independent Country Music Association.
Add to that, a "Final Four" outstanding country band ranking at Independent Music Network in 2012 with "Whisper Sweet Nothin's" followed by "When God Created You," back-to-back for one full year on the Top 30 Country Countdown.
It was "Whisper Sweet Nothins," sung by Amber Rose, that brought the band, led by Charles Ecker, the "Song of the Year" win at The Starliners Radio Network in addition to being named 2013 "Best Country Band."
Stanton was behind the microphone for "When God Created You."
Ecker has written all songs in the band's 17 song published portfolio except for three collaborations, two with Stanton for "No Turnin' Back" and "One More Night with You" and a third with Tim Horrigan, for "Heartless."
All songs except one cover ("Once in a While") can be heard on the Reverbnationdotcom website and all songs save "Once in a While," performed by Rose and recast as a country ballad for the first time since first released as a 1937 Big Band classic by Frank Sinatra and The Tommy Dorsey Orchestra, can be purchased globally through 18 download music services including iTunes, cdBaby and Amazonmp3.
That song, copyrighted and published by EMI-Mitchell and written by Bud Green and Norman Edwards, only is available through these three major downloaders in the U.S.
Contact
Charles R. Ecker Music Publishing
Charles Ecker
310-823-5716
www.thecreckerbandmusic.com
Attention Broadcast Programmers. "Once in a While" written in 1937 by Bud Green and Norman Edwards is published by EMI-Mitchell and can be broadcast ONLY on outlets that have contractual fee arrangements with ASCAP. All other songs registered with BMI th

Contact