SailMaine Names New Executive Director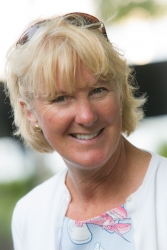 Portland, ME, November 08, 2013 --(
PR.com
)-- With great excitement, the SailMaine Board of Directors announces the appointment of Falmouth resident Janet Acker as its new Executive Director, effective November 11.
Local community sailing program SailMaine has been helping sailors young and old get out on the water to enjoy educational, recreational, and competitive sailing opportunities since 1996 from its home base on Casco Bay. The organization has achieved significant growth and success in recent years and has become a vital community resource on Portland's waterfront. In 2013, SailMaine served over 1,200 people, through its high school, junior, adult, and Special Olympics programs as well as through over a dozen regattas, including the U.S. Optimist Dinghy Association 2013 New England Championship Regatta, which brought to Portland over 300 sailors and their families, hailing from Maine to Bermuda to Canada to the Virgin Islands.
With a broad diversity of professional, small business, and nonprofit experience, Acker brings deep educational advocacy and consulting, entrepreneurial leadership, technology innovation, and a lifetime of East and West Coast sailing experience to SailMaine. Upon graduation from the University of Delaware, Janet spent seven years in independent secondary schools in Maine before moving to Washington, where she worked in both educational publishing and consulting before joining a technology startup in the financial services industry. While in the Northwest, Janet also founded and developed a successful community-based sailing program today known as Sail Orcas, in the San Juan Islands outside Seattle. After returning to Maine, she founded an independent business before making a return to her technology roots at CashStar, and more recently, to the financial services industry.
As an avid sailor, Acker's extensive experience in sailing, management, finance, strategic planning, teaching, technology, and program development make her a natural fit for the organization at this point in its evolution. Her sailing and racing experience has taken her to Bermuda, the Caribbean, the Chesapeake, the coast of Maine, Washington, Southern California, and British Columbia. Janet and her husband lived aboard and cruised their sailboat for seven years, both in Washington state and in Portland Harbor, and they remain active sailors today.
SailMaine founder Chris Robinson said, "Janet was the unanimous choice of the Board, and with her leadership, the organization will be entering a period of significant development to support our mission, our programs and sailors, and our influence and effectiveness as an advocate for access for all to the coast of Maine."
Through innovative new programs and initiatives, as well as partnerships with other local and regional organizations, Acker will continue to pursue SailMaine's mission of stimulating individual growth and creating community through fun and affordable sailing education, recreation, and competition. As the Executive Director, Janet will focus on increasing the profile and awareness of the nonprofit organization and its objectives as well as ensuring the scalability and longevity of SailMaine.
Acker commented that the organization's Board is "an impressive group that is ready to take this organization to a whole new level. I'm thrilled to have the opportunity to work closely with both the talented staff and Board as we continue to fulfill the mission of providing access to the Portland waterfront for people of all ages and abilities."
The appointment marks the organization's first shift in leadership in nearly a decade. Acker replaces outgoing Executive Director, Jeff Cumming, who is moving on after eight successful years at the helm. Cumming leaves behind a thriving organization, which has seen tremendous growth during his tenure. Throughout his 15 years with SailMaine, Cumming worked hard to develop community sailing and contributed much to the community at large.
SailMaine is a non-profit, community sailing program that connects people of all ages and abilities to the coast of Maine through fun and affordable sailing education, recreation, and competition, which stimulates individual growth and creates community.
Contact
SailMaine
Emily Carville
207-772-7245
sailmaine.org
Christy Marquis, Office Manager

Contact