Publisher Announces Release of Second Book in Popular Series
Mendelssohn Levy Publishing announces the release of "The Home Court Advantage" by N.M. Silber on Tuesday, November 19th.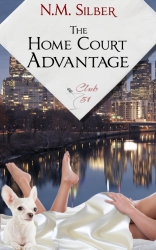 Philadelphia, PA, November 18, 2013 --(
PR.com
)-- Mendelssohn Levy Publishing announces the release of "The Home Court Advantage," by author, N.M. Silber. The book is the sequel to "The Law of Attraction," which was a Bestselling and Top Rated Romantic Comedy on Amazon.com. It is the second installment in the popular Lawyers in Love series.
"I was overwhelmed by the positive reception the first book got, and I'm excited to share the rest of the story with my readers." -Author, N.M. Silber.
"The Home Court Advantage" will be released on Tuesday, November 19th, and will be available on all major online retail sites, including Amazon, Barnes & Noble, Smashwords, and Kobo. Mendelssohn Levy will also be releasing a Boxed Set, which includes both books, on that day. Advance Reviews of "The Home Court Advantage" have been unanimously positive.
"Make some popcorn, grab your favorite beverage, and settle in for an entertaining read that will leave you wiping away tears of laughter (and even a little tenderness) to the very end." -Cindy Meyer of The Book Enthusiast
"The perfect mix of intensity and hilarity." -Lori Lockie of 50 Shades of Gabriel's Crossfire Unscripted Destiny Book Club
"This book is a must read." -Mayas Sanders of reading by the Book
Abbreviated Synopisis:
Once upon a time, two lawyers fell in love across a courtroom …
Gabrielle and Braden have fallen in love and face a bright future together if they can just survive all of the crazy people they encounter, like anonymous napkin droppers, UFO enthusiasts, crooked businessmen, nude drunk drivers, and a woman who tries to break into jail. When the gavel falls will the verdict be happily ever after?
Come join the fun as the sexiest couple in the Philadelphia Criminal Court System shares more witty banter and red hot lovin' with a dash of mystery thrown in. The story that began with "The Law of Attraction" concludes with lots of love and laughter in "The Home Court Advantage."
About N.M. Silber
In her former career N.M. Silber was a criminal defense attorney working in a major city on the East Coast of the United States. She had several non-fiction articles published and edited a legal journal before turning her attention to writing novels. Using her experiences in the criminal court system as a starting place, she developed the engaging cast of characters and the humorous story lines of her romantic comedies. She successfully combines humor, sexiness, and intrigue into a winning combination that make her works unlike any others.
About Mendelssohn Levy Publishing
Mendelssohn Levy is an independent publisher of Romantic Comedy. At Mendelssohn Levy, our goal is to bring love and laughter to readers by publishing high quality Romantic Comedy in both print and digital format. We are the publishing home of bestselling author, N.M. Silber, creator of the hilarious and sexy Lawyers in Love series. Mendelssohn Levy is a forward-thinking company, anticipating the future of publishing.
Contact
Mendelssohn Levy Publishing
Nadine Silber (author)
267-229-0622
mendlevypub.com/

Contact