Thursby Releases Secure Email for iPad and iPhone on Apple's App Store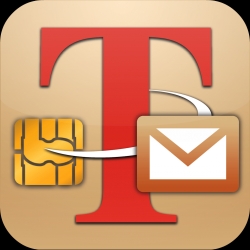 Arlington, TX, November 19, 2013 --(
PR.com
)-- Thursby Software announced the immediate availability of its PKard® Mail secure email app on Apple's App Store.
Although modeled on the familiar native user interface of Apple's native mail program, PKard Mail goes beyond by adding complete support for US Government CAC and PIV secure identity cards. Email signing, encryption and decryption (S/MIME) are offered with the secure smart cards.
Microsoft Exchange email authentication is strong by a two-factor smart card ID and PIN, or traditional usernames and passwords, leveraging the Microsoft Exchange ActiveSync (EAS) protocol.
Bill Thursby, company President and Founder, explained "the growing PKard ecosystem makes the Apple family of mobile devices the most secure solution available. Along with our existing PKard Reader browser, secure mail fulfils our most frequent government request. Our partner offerings further enhance the security by adding VPN, secure file management, document signing, and secure remote desktop access solutions."
Where ActiveSync is enabled for smart card access, PKard Mail can be deployed "as-is" for personal devices (BYOD), government furnished equipment (GFE), in custom versions for organizations, or in conjunction with third party mobile app, app store or device management (MAM, MAS or MDM) initiatives.
PKard Mail is available through Apple's App Store at an introductory price of $19.99. It requires a smart card reader licensed for PKard Reader and includes patent technology licenses from Microsoft.
App Store
https://itunes.apple.com/us/app/pkard-mail/id720812091?ls=1&mt=8
About Thursby Software
Thursby is celebrating over a quarter century of enterprise Apple integration, management and security specialization. Thursby is US-owned, operated and GSA-listed, with headquarters in Arlington, Texas, a suburb of Dallas-Fort Worth, and government sales from Rockville, Maryland. Thursby has well over 70,000 clients across 140 countries, including organizations with thousands of devices under management, and well over a million software licenses sold. Clients range from government, to finance, healthcare, energy, FORTUNE™ 500, Global 2000 companies, education, research, media and OEMs.
Thursby press contact:
Simon Hartley, Director of Sales and Marketing
marketing@thursby.com or +1 (817) 478-5070
Contact
Thursby Software Systems, Inc.
Simon Hartley
(817) 478-5070
thursby.com

Contact