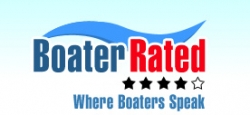 Stuart, CA, November 19, 2013 --(
PR.com
)-- BoaterRated, LLC, which operates the leading independent marine business review website - where boaters rate and review boating businesses - announces the launch of its first-ever crowdfunding campaign. BoaterRated.com chief L. Carl Schellbach, Jr. explains why he is using this popular online fund-raising model, "What a perfect way for us to raise social awareness -- through a social crowdfunding platform like Indiegogo. Crowdfunding is a great way of raising money for us to further spread the word about the benefits of BoaterRated.com with additional outreach and marketing efforts to the entire U.S. boating community. Anyone who contributes at the various levels is offered a different incentive at each one."
"The value of BoaterRated.com grows exponentially for all members of the boating community as more boaters sign up and share their experiences by writing reviews," continues Mr. Schellbach. "It's a big community - over 88 million people enjoyed at least one day of boating last year, and upwards of $120 billion were generated by boating. The vast majority of U.S. boaters are hard- working, middle class men and women and their families who love the outdoors and relish the time they can spend on the water. The mission of BoaterRated.com is to help all boaters maximize the enjoyment of their investment of time and money in boating. As awareness of the BoaterRated.com resource spreads among boaters, the entire boating community benefits from an increase in the quantity and quality of the objective information contributed by boaters themselves about local boating services in all categories. By obtaining contributions through the Indiegogo crowdfunding campaign, BoaterRated.com can continue to offer the basic platform free of charge."
Anyone can participate in the campaign by contributing directly, and/or sharing it with their friends and contacts, be they avid boaters or those who wish to support the boating community, by accessing the Indiegogo campaign at
igg.me/at/boaterrated
.
BoaterRated.com is dedicated to helping boaters find and share objective information about local boating businesses anywhere in the United States. The BoaterRated.com platform also offers marine businesses an effective way to get the word out about their services and to build a positive online reputation. BoaterRated.com has experienced substantial growth over the past year, increasing its business listings to over 20,000 marine businesses throughout the U.S. The entire platform continues to be free for both boaters and the marine businesses that serve them.
About BoaterRated:
BoaterRated, LLC owns and operates BoaterRated.com, an easy-to-use, independent review website where boaters can offer ratings and reviews of local boating businesses, and where those businesses can easily enhance their "get the word out" efforts. For more information visit
www.BoaterRated.com
and explore.
Press Contacts: L. Carl Schellbach, Jr. - 1-877-292-7440, carl@boaterrated.com