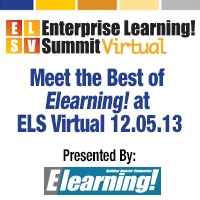 Oceanside, CA, November 20, 2013 --(
PR.com
)-- Elearning! Media Group announced the Enterprise Learning! Summit Virtual event to host five sessions on December 5th, 2013. The live virtual event will open from 6:30 AM – 2:00 PM PT and executives can attend free by registering at
http://engage.vevent.com/rt/elsummit~120513.
The Summit offers the online advantage to attendees who might not otherwise be able to attend an onsite event. At the Enterprise Learning! Summit Virtual event, attendees can participate in Best of Elearning! sessions and hear which learning technology vendors are best in class at the Best of Elearning! Awards. The Best of Elearning! Awards is a part two, to the Best of Elearning! Awards hosted at the Enterprise Learning! Conference & Expo on August 26th, 2013. The December Best of Elearning! Awards will announce the remaining 55 award winners.
E-learning has evolved! It's more than on-demand anytime access. It's collaborative, engaging, and mobilized. Featured at the December 5th live virtual is the Best of Elearning! Day. Jerry Roche, Editorial Director, Elearning! Media Group will host Best of Elearning! Award winners in the Best of Elearning!: Engaging Content session. Join this session at the Enterprise Learning! Summit 2013 and hear how these brands are bringing content to life via engaging learning environments, online coaching and learner collaboration. A must attend session for those striving for Learning 2.0.
Last year, Elearning! Magazine saw a significant shift to technology enabled learning - and it hasn't stopped. Attend the Top 10 Learning Technology Must Haves for 2014 session and discover the top 10 most desired learning and e-learning tools for both 2013 and 2014. Learn what tools have fallen out of favor. What's the future for gamification, for social networks, and for mobile.
The Summit Keynote titled "How the Best Leaders Make Everyone Smarter" hosted by Liz Wiseman, will will share the research behind Multipliers and illustrate the resoundingly positive and profitable effect these Multipliers have on organizations – how they get more done with fewer resources, develop and attract talent, and cultivate new ideas and energy to drive organizational change and innovation. She'll introduce the five disciplines that distinguish Multipliers from Diminishers and provide practice tips for leading like a Multiplier. Attend this session and learn what organizations could accomplish with access to all the intelligence that sits inside it.
Jason, Haag, ADL Initiative introduces several design implications for learning that involves user experience (UX) design, interface design, service and system design, organizational design, reporting and analytics design, and instructional design. You'll hear about the basics of the xAPI and how it compares to SCORM. This session "An Introduction to the Experience API (xAPI)" is informative and interactive and will involve audience participation to identify and discuss the potential types of cognitive and performance processes in designing a learning experience using the xAPI.
Join Best of Elearning! Award winners, speakers, analysts and industry experts in a brand new and engaging collaboration room using the new Instant Web Meeting feature. Within the Enterprise Learning! event, attendees can join an Instant Web Meeting. The Instant Web Meeting gives attendees access to voice questions live to others, screen share projects or watch live demos from Best of Elearning! Award winners.
"Some of the best ideas are those shared between attendees at our events. The more attendee engagement we have within the virtual event community, the more satisfying it will be. We are committed to increasing the engagement and accessibility of the event content to executives anywhere," summarizes Catherine Upton, Group Publisher, Elearning! Media Group.
Attendees can also engage in Tweet Chats inside of each session, chat with each other and query speakers in real time. (Tweet hash tag #ELS13) Plus, a Skype integration that allows all visitors to video chat with each other, exhibitors and speakers.
Registration Open Now Enterprise Learning! virtual registration is now open at http://engage.vevent.com/rt/elsummit~120513. Registration is complimentary for practitioners in the training, talent, e-learning, workforce, human resources or executive management. Vendors or suppliers do not qualify, unless you are a participating Best of Elearning! Award winner.
For more information about participating in the Best of Elearning! Day contact sales at sales@2elearning.com and (888)201-2841 x844.
About Elearning! Media Group:
Elearning! and Government Elearning! magazines, e-Magazines, E-newsletters, Alerts, Web sites and Summits are produced by B2B Media Company, LLC. Elearning! magazine is one in the family of 11 media products serving the $160 billion enterprise learning market. In combination, these brands reach up to 2 million executives and professionals who plan, evaluate and deploy enterprise-wide learning solutions across their organizations each year. To learn more, visit: http://www.2elearning.com or http://www.gov.2elearning.com
About Enterprise Learning! Events:
In our seventh year, Enterprise Learning! Events bring onsite and online live audiences together to learn, network and share. Attend the Enterprise Learning! Summit Virtual December 5th, 2013. For more information about the ELS Virtual Summit visit: http://engage.vevent.com/rt/elsummit~120513. Mark your calendar for Enterprise Learning! Conference & Expo, the exclusive learning and workplace technology marketplace, August 2014, Anaheim, CA.