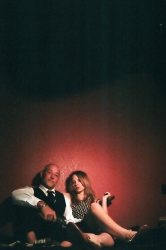 Gettysburg, PA, November 22, 2013 --(
PR.com
)-- This month Lis Anna is offering up prints to her new exhibition "Outlaws" through crowdsourcing favorite, Indiegogo. Lis Anna is an Award winning, published photographer, author and filmmaker who only puts together a new exhibition every few years. The theme of the new exhibition explores Outlaws in all of its various themes. Bonnie & Clyde types to spies to tattooed Serbian Crime Lords.
In the spirit of crowdsourcing this campaign will be the only way to receive prints from this new show.
Follow this link to join the campaign. Be an Outlaw.
http://www.indiegogo.com/projects/outlaws/x/4220310
Lis Anna is the recipient of many awards including; a 2011 Pushcart nominee, a five time WorldFest winner, FadeIn, Telluride IndieFest winner, Helene Wurlitzer Grant recipient, Chesterfield Film Project Finalist, New Century Writers winner and a finalist in the prestigious William Faulkner Competition. Her short films, screenplays, and novels have all been nominated and subsequently won awards including Best Novel and Best Short Film. She is a quarter-finalist in the International Screenplay Awards, semi-finalist in the Nicholl Fellowships in Screenwriting, a quarter finalist in the Writers Network screenplay competition and First Place in The American Accolades Screenwriting Competition. She is the Second Place Winner of the Thomas Wolfe Fiction Award 2006, the Fourth Place New Century Writers Short Fiction Winner, Second Place Winner Best Dramatic Short Tupelo Film Festival, the First Place winner of the 11th Annual Poet Hunt Award, a three time Accolade Film Competition winner including a Best in Show and Award of Excellence winner, a Screenplay Festival winner and a Bronze Remi winner at Worldfest. Her fiction and photography has been published in Word Riot, The Blotter, Petigru Review, Hot Metal Press, The Smoking Poet, Eclectic Flash Literary Journal, Paper Skin Glass Bones, 491 Magazine, Fiction Fix, The Monarch Review, 5x5 Literary Magazine, Red Booth Review, Hint Fiction Anthology, Chamber Four Literary Magazine, Emyrs Journal, Literary Laundry, Barely South Review, Flash Fiction Offensive, Flashquake Literary Journal, Steel Toe Review, Cactus Heart Press and The MacGuffin Literary Review. You can learn more about her at:
http://www.lisannafilms.com/
http://www.lisanna.net/
http://bluerumor.wix.com/lis-anna-author
For more information about Lis Anna please visit her Indiegogo Campaign http://www.indiegogo.com/projects/outlaws/x/4220310 or email her at bluerumorproductions@hotmail.com
Contact Info
Lis Anna
1913 Baltimore Pike
Gettysburg, PA 17325
{717} 778-7972
bluerumorproductions@hotmail.com
www.lisannafilms.com