Celebrity Author Harry Sidebottom Endorses Reprint of Classic Historical Novel
The out-of-print historical novel "The Year of the Horsetails" by R. F. Tapsell, concerning the struggle of a sedentary people against a medieval nomadic empire, has been reprinted to the acclaim of Harry Sidebottom, author of the Warrior of Rome series. "Set in an unusual time and place, The Year of the Horsetails creates an exotic, fully imagined world combined with universal themes. Intensely exciting. An inspiration."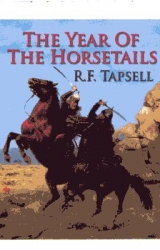 Oxford, United Kingdom, November 22, 2013 --(
PR.com
)-- The long-lost historical novel "The Year of the Horsetails" by R. F. Tapsell, first published in 1967 and long out of print, has now been republished by the specialist company CNPosner Books.
The Oxford classicist and bestselling historical novelist Harry Sidebottom, author of the Warrior of Rome series, has written the following blurb about the book:
"Set in an unusual time and place, The Year of the Horsetails creates an exotic, fully imagined world combined with universal themes. Intensely exciting. An inspiration."
Dr. Sidebottom earlier made the following comment in an appendix on page 424 of Warrior of Rome: The Wolves of the North:
"While editing this novel, I chanced upon a novel I read as a child. Re-reading The Year of the Horsetails by R. F. Tapsell (1967), I realized where my interest in nomadic warfare began and, with Bardiya - Tapsell's siege-engineer, outsider hero - something of the origins of Ballista. Tapsell was a superb historical novelist, and some enterprising publisher should put his works back in print for a new generation."
A synopsis of the book (non-spoiler) follows:-
Eastern Europe: Early Middle Ages. The nomad warrior Bardiya must flee from the evil empire of the Mongol-like Tugars and their ruthless Kagan. He receives hospitality from the sedentary Slavic Drevich people; but fears that they also might succumb to the might of the Tugar empire. Will he be able to convince them of their danger and teach them the skills necessary to defeat their new enemy?
The book is also a finalist in the Reader's Favorite Book Awards 2013 in Historical Fiction.
The Kindle edition is available on Amazon for only 1.71 GBP or $US2.74. Paperback editions are available from only 0.99GBP +postage.
To read more reviews or purchase the book, go to www.amazon.co.uk/The-Year-Horsetails-3rd-1/dp/0956347541/ref=sr_1_1_bnp_1_pap
Contact
CnPosner Books
Christopher Posner
00441865763578
www.cnposnerbooks.co.uk

Contact