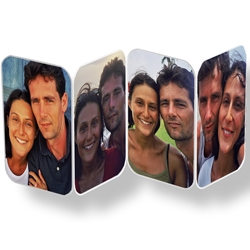 Rochester, Kent, United Kingdom, September 20, 2007 --(
PR.com
)-- OPUSalbums.com has introduced the Photo Accordion, the first of a range of creative paper products for home and business inkjet printer users, businesses and dealers.
Photo Accordions are credit card sized photos packs, folded out of a pre-cut A4 sheet to form convenient concertina-like arrangements which can be kept in a wallet, purse or pocket.
An accordion is produced from a single adhesive backed A4 sheet which has been pre-cut and scored. The user positions eight or ten photos and text using a software driven template, then lifts off the photo area, folds on the scored edges and snaps out the corners.
Two photo sizes are available – credit-card sized (8.5 x 5.4cm) – 10 pictures per sheet or pocket-sized (10x7cm) – 8 pictures per sheet. They are sold in packs of 10 sheets. The template software is available on free-download from the OPUSalbum.com's website.
Photo Accordions may be used for family pictures, reminders, thank-you notes, revision or lecture notes, product feature or service quick reference guides.
Daniel Roberts, Director of OPUSalbums.com said "Photo Accordions are so versatile it is not surprising they have caught on in France where they are made. Now that we have introduced them to the UK I am sure they will sell equally as well. We are very pleased with Labelprint's creative paper products and intend to introduce more over the next few months."
Photo Accordions are manufactured in France by Labelprint SA.
Labelprint is represented in the UK by Incartek (Ink Cartridge Technologies Ltd) of Rochester. Tel 0845 408 9427.
OPUSAlbums.com is a leading web based supplier of professional and home inkjet photo albums, scrapbooks and creative paper products, and a publisher of guides on digital scrapbooking and album printing.
For more information please contact
Daniel Roberts
OPUSalbums.com
Rochester, Kent
Tel 0845 8386 286
e-mail daniel@opusalbums.com
Product information is available at
www.opusalbums.com/photoaccordions
Product picture may be downloaded from
http://www.opusalbums.com/files/1803555/uploaded/506109_cropped.jpg
Video on Labelprints' creative products may be downloaded from
http://www.opusalbums.com/files/1803555/uploaded/Montage test clip Label Print.wmv

Product schematic
http://www.opusalbums.com/files/1803555/uploaded/P4 Photo Accordion Schematic.jpg
###