Best Stick Vacuum List Published by Vacuum Cleaner Advisor
Vacuum Cleaner Advisor has just published its list of the very best stick vacuums for 2013. This comprehensive list is designed to help people get the best bang for their buck.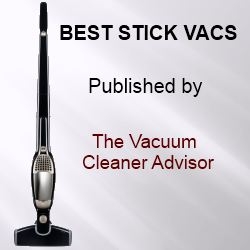 Seattle, WA, November 28, 2013 --(
PR.com
)-- Stick vacuums are a great way to deal with small-to-medium size cleanup jobs. They are not big and bulky like uprights and they're easy to carry, move and store. Stick vacs are an excellent fit for a modestly sized home or apartment.
Every year Vacuum Cleaner Advisor publishes its list of the best stick vacuums. A number of manufacturers made the cut in their latest 2013 list. These include Miele, Hoover, Shark, Eureka, Electrolux and Bissell. The vacuum models are divided into cost, from top-end, to mid-range, to inexpensive.
At the top-end of the stick vac market lies the Miele Quickstep S194. This vacuum isn't cheap at over $200USD but it is quiet, powerful and great at pulling up pet hair. It is also bagged and corded, something most stick vacs are not. It is a 2-in-1 vacuum and it converts to a handheld. In addition, it has maximum and minimum suction settings which help when cleaning delicate items like curtains or lamp shades. Owners give the Quickstep great reviews.
Mid-range stick vacuums include the Hoover Linx, the Shark Freestyle and the Electrolux Ergorapido Ion. All three machines are cordless and prices range from about $120USD to $150USD. The Linx is a popular unit that weighs just over 7 lbs. Powered by lithium ion batteries the Linx can run for about 15-20 minutes on a charge. The Shark Freestyle is lightweight, powerful and, like the Miele Quickstep, has high and low power settings. In addition, the Freestyle recharges very quickly. The Electrolux is both a stick vac and a handheld vac. It weighs just over 5 lbs and is noted for being very maneuverable.
The Hoover SH20030, Eureka Quick-up 96JZ and Bissell PowerEdge 81L2-T round out the list and can usually be found for under $100. The Hoover is the most expensive of this group and is corded. It is also a little heavier at 9 lbs but it garners top-notch ratings from consumers. The Eureka can be found for about $50USD and is cordless and very light at only 4 lbs. It also doubles as a handheld. The Bissell retails for about $50USD as well and is corded and powerful. It is best on hard surfaces.
See the
2013 list of best stick vacuums
at vacuum-cleaner-advisor.com and read more about each machine before you make any buying decisions. Vacuum Cleaner Advisor has been providing vacuum-related consumer information since 2007.
Contact
Vacuum Cleaner Advisor
Emily Choulasco
206-196-1762

Contact