Black Friday & Cyber Monday Handbags, Watches, and Sunglasses See Biggest Price Drops Yet in Fashion and Sandlake Group LLC is Taking Marketshare
Big fashion brands are taking the hit while the outlet stores are selling designer products well below wholesale this holiday season. Newcomer Sandlake Group LLC, which owns DesignerThings.com is gaining market share from companies like Gilt, Rue La La, and Hautelook.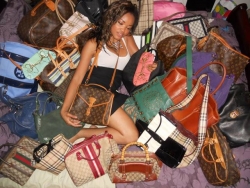 Orlando, FL, November 29, 2013 --(
PR.com
)-- Consumers may find the best deals yet in 2013 on designer brand products like coach handbags, Versace watches and more this holiday shopping weekend. Why? Retail brands have been taking big hits as more and more shopping moves online, while the online outlet stores are blowing out inventory at below wholesale prices.
As more and more shoppers are moving online, so too are the number of online retail stores. Now-a-days however, the increase in the number of online outlet stores, which discount prices even further below wholesale prices to the public.
Companies like Gilt, Rue La La and Hautelook for example, are building a loyal following of individuals who would rather buy what's on sale, than the newest item to hit the shelves at full retail price.
Newcomer on the block,
Designer Things
, owned by Sandlake Group LLC is grabbing market share fast by not requiring users to open an account. Most of the prices on items they sell are deeply discounted. How much exactly? Up to 70-80%.
Couple the already large savings with the craziness that is Black Friday and Cyber Monday (the biggest shopping holiday weekend of the year), and consumers could practically be getting products for next to nothing from the outlets.
"Brands like Coach, Judith Leiber, and Chloe traditionally have an incredible mark-up placed on them by the brand," said Gregory Stranhan of
DesignerThings.com
. "These brands eventually move out inventory that's a few months old to make way for the newest of items, and we buy them in bulk at pennies on the dollar. We then pass the savings on to the consumer; it's really that simple."
"The authenticity, quality, and style is all still there. Personally, I love Coach bags but I would never pay full price for one," said Shaleece Martin from Orlando.
Contact
Sandlake Group LLC
Gregory Stranhan
1.855.587.8337
www.designerthings.com

Contact