Minneapolis Based Nonviolent Peaceforce Hits Times Square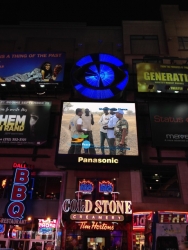 Minneapolis, MN, November 30, 2013 --(
PR.com
)-- An ad featuring the field teamwork of Nonviolent Peaceforce is running on the CBS Super Screen on 42nd Street, New York City, and will continue through January 12th. Every day, at least a million and a half people will see the holiday message that peace can best be created and kept in nonviolent ways.
Nonviolent Peaceforce (NP), an international nongovernmental organization, is better known in remote war zones of South Sudan and Mindanao than on Times Square. NP provides well-trained professional unarmed civilian peacekeepers to protect civilians and deter violence in regions where armed conflict disrupts lives.
When the corporation that purchased the Times Square ad space found they actually weren't ready to roll out their promotional campaign, they salvaged the situation by donating the time to nonprofits, including Nonviolent Peaceforce. Mel Duncan, NP's co-founder, said, "Nonviolent Peaceforce is grateful to have this unprecedented opportunity to reach a huge and varied audience that otherwise might not know about our work. In this historic and iconic location, in one of the world's great cities, we can let war-weary Americans see the effective alternatives to guns and missiles."
Contacts:
Mel Duncan: Nonviolent Peaceforce Co-founder and Director of Special Projects 651-245-8706 mduncan@nonviolentpeaceforce.com
Linda Burkett: Nonviolent Peaceforce 612-812-9395 lburkett@nonviolentpeaceforce.com
Contact
Nonviolent Peaceforce
Linda Burkett
612-812-9395
www.nonviolentpeaceforce.org

Contact