Extreme Engineering Wins Best Major Theme Ride on the Fly Wire Zip Line
Extreme Engineering wins it's 8th consecutive award at the 2013 IAAPA trade show. This year Extreme Engineering was awarded with one of the most prestigious awards, Best New Major Theme Park Ride, on the Fly Wire Zip Line.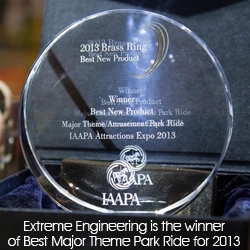 Sacramento, CA, December 03, 2013 --(
PR.com
)-- Hundreds of attractions industry professionals from amusement parks, water parks, family entertainment centers, zoos, aquariums, science centers, museums, and more packed the IAAPA Theater for the IAAPA Brass Ring Awards ceremony honoring the industry's best and brightest. The International Association of Amusement Parks and Attractions presented 69 awards recognizing excellence in marketing, live entertainment, food and beverage, human resources, retail, family entertainment centers, best new product, and best exhibit during the IAAPA Attractions Expo, on Nov. 20 in Orlando, Fla.
Extreme Engineering was the winner of one of the most prestigious awards, Best New Major Theme Park Ride, on the thrilling Fly Wire Zip Line. "I was shocked since there was so many great products to compete against this year. I'm still shocked even with the award in our office," states Philip Wilson, VP of Marketing with Extreme Engineering.
The tradition of the brass ring in the attractions industry dates back to the carousels of the late 1800s when rings were suspended above riders; low enough to reach but high enough to pose a challenge. Most rings were made of iron, so grabbing the brass ring was the rare and cherished prize. Skilled riders who grabbed a brass ring earned a second ride on the carousel. Today, the term "brass ring" is synonymous with high achievement in the attractions industry.
Jeff Wilson, CEO of Extreme Engineering states, "I'm proud of my team and thankful of the industry for choosing us as the best. This award was earned by everyone who worked hard in selling, marketing, engineering and building the Fly Wire Zip Line. It is such a great honor to win on best Major Theme Ride."
Extreme Engineering now holds 8 consecutive industry awards with 5 of those awards in the Best New Product category. For more information on the industry award and Fly Wire Zip Line please feel free to visit www.extremeengineering.com for additional information. You may also email phil@extremeengineering.com.
Contact
Extreme Engineering
Philip Wilson, V.P. of Marketing
916-663-1560 x 222
www.extremeengineering.com

Contact