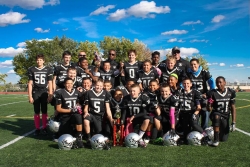 Lincoln, NE, December 03, 2013 --(
PR.com
)-- The Star City Silverbacks are the 2013 NYFC 12U National Champions.
After an impressive undefeated regular season (9-0) that placed them as regular season Champions in the Heartland Youth Football League, the Silverbacks continued on by winning the league playoffs and Championship Game finishing Heartland play 11-0.
During this stretch of 11 games, the Silverbacks averaged over 50 points per game and went unscored upon. Head Coach Chad Case, wanting to provide the most competition for this group as possible, entered them into regional play at the Tournament of Champions playing an age group up.
"Beyond teaching these young men what they are called to do as future husbands and fathers, about discipline, work ethic both academically and athletically, and preparing them properly for high school athletics, our mission is to get these young men out of their comfort zones and placing them in ultra-competitive environments to show them that they can in fact compete and succeed. We know that playing up in age in football is tremendously difficult especially at the 11-12 vs 13-14 age groups, and that it should not be done on a regular basis. The 11-12 year old athlete, for the most part, is at a major disadvantage to the 13-14, as a much larger percentage of athletes the older athlete has entered puberty. This equates into much bigger, stronger, and faster athletes and the competitive balance is lost," said Case.
Despite the age difference, the Silverbacks won their first game 47-0 in regionals advancing to 12-0. The Silverbacks then suffered their first loss of the season 18-8 at the hands of the Next Level All-Stars, an all-star team comprised of athletes from Missouri and Kansas.
The Silverbacks now 12-1 finished their season by heading to Las Vegas to play in the National Youth Football Championships over Thanksgiving. The Silverbacks opened Nationals with a 19-6 victory over the Paramount Pirates (CA). They followed this victory up by winning the National Championship game Saturday versus Defending National Champions Red Creek Nation (CO), with an impressive 37-13 victory.
The Silverbacks finish their inaugural season with a record of 14-1, averaging over 47 points per game and surrendering just 37 on the entire season, less than 3 points per game.
Says Case, "Coaching these young men is incredibly rewarding; watching them not only compete day in and day out, but come together and truly function as a team is special. The sacrifices they make for each other throughout the football season directly correlate with the sacrifices they will continue to make as they get older. They learned to embrace the "grind" and that achieving great things does not come easy. They were willing to pay the price. Our mission at Star City Select is to help young men be the absolute best they can be, on and off the field. I sincerely believe that this season is proof positive that these young men did just that."
Contact:
Star City Select is a non-profit youth athletic organization based in Lincoln, NE that is expanding to field football teams in multiple age groups this next fall, they feature Certified Coaches and curriculum driven by the National Football Academies. If you are or know of someone who is interested in playing, or coaching for Star City Select, please contact info@starcityselect.com.