Best of US Publishing Introduces the Ultimate Elf on the Shelf Idea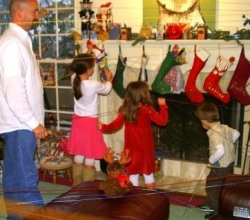 Birmingham, AL, December 06, 2013 --(
PR.com
)-- Best of US Publishing will release The Christmas Web for the 2015 holiday season. The Christmas Web - A family Tradition written by Kerry J Grinkmeyer and illustrated by Diane Whitman is a children's book based on Mr. Grinkmeyer's Christmas family tradition of over 22 years. The Christmas Web is a perfect enhancement of The Elf on the Shelf phenomena that has swept the nation over the past decade.
"Christmas has always been a family celebration in our home, but as our children grew older I found that their interest in Christmas morning waned and the sparkle in their eyes was gone. The day after Thanksgiving, 1992, I introduced the Christmas Web in our home with the placement of 'magic wands' into our children's stockings that had for years been hung at the fireplace mantel. Attached to each 'magic wand' was a piece of yarn (a 70 yard piece of yarn). When our two teen-aged children came down Christmas morning, they found that the yarn had been wound through the house - around window latches, door knobs, chairs and furniture. It ended in a closet or cabinet which held their special Christmas gift from one of Santa's elves; an elf that had been looking out for them for the past year and knew of their desire for this special Christmas gift," said Mr. Grinkmeyer.
The Christmas Web continued as each of their children got married and as they had children. Each of their grandchildren now have an Elf On The Shelf or Elf Magic elves that are now the elf that hides their special Christmas gift each year. The Grinkmeyer's now have seven "magic wands", (the 40 years olds will not give up their "magic wands") each with 70 yards of yarn winding through their house every Christmas morning; making getting a cup of coffee an acrobatic achievement before the winding hunt begins.
The Christmas Web, published by Best of US Publishing, comes in a gift set containing a beautifully illustrated 52 page children's book, a log to keep record of each Christmas morning for generations to come, complete instructions and three magic wands each with 70 yards of colorful yarn. The gift-set retails for $39.99.
For more information contact Kerry Grinkmeyer at 205 957 5599
www.ChristmasWeb.com
Contact
The Best of the U.S.
Kerry J Grinkmeyer
205-957-5599
www.ChristmasWeb.com

Contact