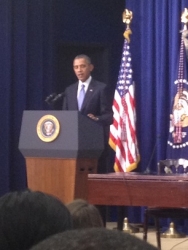 Salt Lake City, UT, December 06, 2013 --(
PR.com
)-- Teleperformance, the global leader in outsourced multichannel customer experience management, was recognized at the White House Champions of Change ceremony, hosted by President Barack Obama, for its extensive efforts in creating jobs for young adults in Ohio. The event awarded organizations that embrace and exemplify the ideals of the Putting America Back to Work initiative. Teleperformance currently employs more than 2,200 people in Ohio.
Jim Phillips, Vice President of Recruiting, Teleperformance, represented Teleperformance at the ceremony in Washington, D.C. "We are proud to be recognized as an organization dedicated to putting America back to work," Phillips said. "Our partnership with Central Ohio Workforce Investment Corporation is very important to us and we are fully committed to continuing to partner with them in the future."
Phillips collaborated with the Central Ohio Workforce Investment Corporation (COWIC) in recent months to co-author several articles detailing Teleperformance's investment in Ohio job creation. These articles appeared on the White House blog and caught the attention of Columbus, Ohio mayor, Michael Coleman. Mayor Coleman invited Phillips to participate in a call with President Obama and other organizations that have done significant work to further the goals of Putting America Back to Work. The organizations shared their strategies and successes in job creation and were invited by President Obama to the White House Champions of Change recognition ceremony.
"Being recognized by the White House for our recruiting efforts was truly an honor for our organization," said Miranda Collard, President of Operational Delivery for Teleperformance USA. "Our collaboration with COWIC has helped us offer jobs to many talented people who provide exemplary service for our clients. Having those efforts recognized on a national level has been truly rewarding for our entire company."
Ranked as the number one provider of outsourced customer experience management services, Teleperformance transforms passion into excellence. Our passionate people deliver excellent customer experiences for some of the world's leading brands. Through our integrated customer management, back office and technology solutions, coupled with the industry's most expansive network of domestic, near-shore, offshore and work–at-home options, Teleperformance USA delivers results for its clients.
About Teleperformance Group
Teleperformance, the global leader in outsourced multichannel customer experience management, serves companies around the world with customer acquisition, customer care, technical support and debt collection programs. In 2012, it reported consolidated revenue of €2,347 million ($3,028 million, based on €1 = $1.29).
The Group operates around 100,000 computerized workstations, with more than 138,000 full-time equivalent employees across 270 contact centers in 46 countries. It manages programs in over 66 languages and dialects on behalf of major international companies operating in a wide variety of industries.
Teleperformance shares are traded on the NYSE Euronext Paris market, Compartment A, and are eligible for the deferred settlement service. They are included in the following indices: SBF 120, STOXX 600 and France CAC Mid & Small.
Symbol: RCF - ISIN: FR0000051807 - Reuters: ROCH.PA - Bloomberg: RCF FP
www.teleperformance.com