Brain Tumor Surviving iPhone App Developer Needs Support for a Kickstarter.com Project
Brain Tumor survivor making a documentary about overcoming cancer and makng a iPhone app.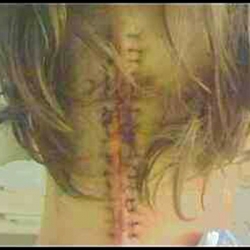 Brooklyn, NY, December 07, 2013 --(
PR.com
)-- iPhone App developer, Michael Desmond is seeking funding for a kickstarter.com project. The project is making a documentary about recovering from brain cancer then starting his iPhone app development company.
The app found at DesmondDrums.com is a practical tool for all musicians. Designed to be a metronome that plays real drum sounds in perfect tempo. The app focuses on easy to use controls seamlessly loops drumbeats. Each App has several variations of the main beat of many genres including Reggae Punk Rock Jazz. Sleigh Bell Loops is free for the holiday season, with all profits made from the advertising donated to the Salvation Army.
"I started at the bottom, using the computer at the library. It took me a year of selling bikes from the garbage before I could even afford a laptop. I think that if people see, that this regular guy can get his head spilt open and parts of his brain taken out then dosed with extremely high radiation to the brain and is still be able to come out with a practical app and make a movie about it, they will be inspired to get back in fiscal shape."
The documentary, which is titled "My Musical Tumor was going to parallel the tumor and recovery with the economic collapse and recovery, but the economy is stagnating and I am much better than before, so hopefully people fund this project so others will see this movie and be inspired to get back in mental, physical, and economic shape."
Desmond whom graduated top of his class in Cinema and Digital Media from Stony Brook University, said he has so much footage from video journals, he felt compelled to make a movie. "I've had a tumor growing in my head since I was young. So I recorded everything, audio, video, pictures, written journals, doctors notes. I figure there's never been a more needed time to make this movie. And with peoples help I can do it."
For More Information;
http://www.desmondsdrums.com click the press kit icon
Contact
Desmondsdrums.com
Michael Desmond
1-631-334-4671
http://desmondsdrums.com/Portal.html

Contact