Manufacturer of the Innovative Self-Locking Tap Extension Announces International Availability with New Distributor
ThreadToolSupply.com offers Machinists and Manufacturers Worldwide Accessibility to their Line of Tap Extensions Through User Friendly Online Order/Shipping Platform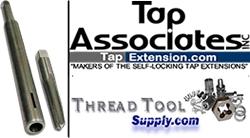 Smith Valley, NV, December 12, 2013 --(
PR.com
)-- As we look forward to a New Year, Tap Associates Inc. is pleased to announce the addition of ThreadToolSupply.com to their Distributor Roster and potential for international expansion.
Pamela Gurr, Distributor Services Director of Tap Associates, Inc., added, "ThreadToolSupply.com exemplifies global growth trends. This company streamlines order placement and shipping process for us to respond immediately to international demand for our products. We anticipate strong domestic and international growth as a direct result from ThreadToolSupply.com contributions and their dedication to customer service," said Ms. Gurr.
"We are very excited about the opportunity to bring the Tap Associates line of Self-Locking Tap Extensions to the global market," said John Winkler, founder and president of ThreadToolSupply.com. "We are confident that machinists around the world will understand and appreciate this unique solution to close quarter and long tapping problems. With international demand for American made products on the rise, any company that limits themselves to the U.S. market is doing a disservice to themselves and their potential customers. Our international capabilities and partnerships will ensure that the Tap Associates product line will grow beyond borders and provide every opportunity for their
Self-Locking Tap Extensions
to become a successful American export."
About ThreadToolSupply.com



ThreadToolSupply.com (Mukwonago, WI USA) is a leading supplier of innovative thread identification, conversion, repair and cutting tools headquartered in Mukwonago, Wisconsin. Products include an extensive selection of nut, bolt, and screw thread gauges, thread adapters, helical and key locking thread inserts, split die thread chasers, drills, taps and
tap extensions
.
 For more information, visit ThreadToolSupply.com and click on the about us page or call toll-free at 888-835-0868.
About Tap Associates Inc.
USA OEM Makers of the Self-Locking Jüngere Tap Extension (Smith, NV USA). The unique self-locking feature offers the smallest outer diameter (OD) of any Tap Extension in the industry, and the ideal solution for close quarter and long tapping problems. Available in 2,4,6,8 and 12-inch lengths, our Extensions are competitively priced offering all the benefits of a long tap, yet at the cost associated with a standard tap. Fits standard ANSI (metric) machine tap sizes #0-6 to 1-1/4 and pipe (NPT) tap sizes 1/16 to 1-1/2.
Contact: Pamela Gurr, Tap Associates, Inc. http://tapextension.com - 800-LONGTAP (566-4827) Pamela@TapExtension.com
John Winkler, ThreadToolSupply.com- 888-835-0868 pr@ThreadToolSupply.com
Contact
Tap Associates, Inc.
Pamela Gurr
775-465-1600
www.tapextension.com

Contact