Amaryllo Unveils iBabi HD, World's First HD Skype Baby Monitor with Wireless Motion-Control Technologies at CES 2014
Amaryllo's patent-pending technologies allow parents to remotely control Skype wireless baby monitor by intuitive movement of their smartphones anywhere, anytime.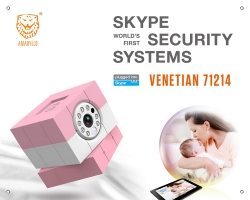 Amsterdam, Netherlands, December 14, 2013 --(
PR.com
)-- Amaryllo International B.V. (
Amaryllo
), headquartered in Amsterdam, the Netherlands, is the first company to produce Skype Security Systems products that include iCam HD, iBabi HD, iDoor, and iSensor HD, etc. Most of the products are to be revealed for the first time at CES 2014. To facilitate wireless control on home IP devices, Amaryllo designs and develops new wireless technologies that coordinate movement of smartphones with a remote iBabi HD camera such that consumers can simply use their smartphones to pan-and-tilt cameras anywhere, anytime.
Unlike conventional wireless IP cameras or baby monitors, which require text command or touching the screen to remote-control cameras, Amaryllo's wireless technologies simplify the control mechanism by allowing one waving his smartphone to pan or tilt the camera. With these innovative technologies, Amaryllo's Skype IP cameras automatically follow the general direction of the smartphone movement and there will be no texting or touching the screen needed. In addition, iBabi HD features a patent-pending "Privacy Mode." Once enabled, iBabi HD will inform the Skype server to register itself into a "Do Not Disturb" mode shown on the Skype account. iBabi HD will mute itself and turn the camera all the way to the back with LED light off to offer parents a peace of mind. With "Privacy Mode," Amaryllo iBabi HD maximizes security and privacy protection for your loved ones.
Amaryllo's booth is located at Venetian 71214 at CES from January 7 to January 10, 2014. To reserve a private product demonstration or to receive product details, please contact Amaryllo at
sales.ai@amaryllo.eu
.
About Amaryllo International B.V.
Amaryllo International B.V. (Amaryllo) is a worldwide leading smart-home wireless Skype Security Systems product company. Headquartered in Amsterdam, the Netherlands with facilities in the US and Asia, Amaryllo's products span from Apple MFi accessories, Bluetooth headsets, Bluetooth radio speakers, wireless video doorbells, wireless video sensors, to wireless security products. Amaryllo is a licensee of Apple MFi, Skype Developer, Windows Developer, Google Play Developer, AAC+, UPnP, Bluetooth SIG, and etc.
540 Singel, 1017 AZ, Amsterdam, the Netherlands
T: +31 208941387
F: +31 208941333
sales.ai@amaryllo.eu
www.amaryllo.eu
Contact
Amaryllo International B.V.
Jacob Hanks
+31208941387
www.amaryllo.eu

Contact