HEATSAIL Offers the DOME®, a Unique Combination of Light and Radiant Heating
Heatsail, located in Antwerp, Belgium introduces the DOME®, a stylish combination of a lamp and a high intensity electric radiant heater designed to provide a modern alternative to the traditional patio heater. The introduction of the DOME is the first of a range of products being introduced.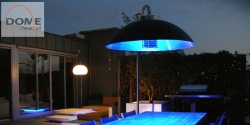 Antwerp, Belgium, December 16, 2013 --(
PR.com
)-- The DOME® Radiant Heater is a high-intensity electric heater that uses radiant heat similar to the rays emitted by the sun to provide a comfortable, even temperature to people and surfaces.
It is designed for use in outdoor applications and high volume interior locations such as larger conservatories where normal heating may be prohibitively expensive.
Because the heat is targeted, comfort is almost instantaneous with a room being heated in a fraction of the time and cost compared with conventional central heating. Compared to conventional patio heaters the dome is energy efficient, produces no direct emissions and is safe and convenient to use, with heat directed to where it is most needed.
The exclusive suspended lamp will spread pleasant light on your table; This also makes it ideal for settings where ambient light is important and the "radioactive glow" of a quartz electric heater is not desirable.
The patented design is attractive and available in different color combinations. The DOME® has no moving parts, no gas emissions and zero combustion risk. All DOME products have an IPX-5 rating for protection against water ingress and resistance to water spray.
"Conventional patio heating is antiquated and inefficient," says Philip Dubois, Co-owner of Heatsail. "The Dome's combination of pleasant lighting and almost invisible radiant heat extends your great outdoor moments and lets you enjoy great weather for a longer time, without any of the hassle of conventional solutions, requiring simple conventional domestic wiring or even connecting to a 16 amp domestic socket."
Designed and assembled in Belgium, the DOME® can optionally be delivered in any RAL colour. The inside coating has an aluminium or golden colour (optional).
The DOME® is rated at 3200W and is available in 2 different versions: floor lamp or ceiling lamp.
Contact
Heatsail
Luc Teblick
+32 475798962
www.heatsail.com
Heatsail IP, Kloosterstraat 15, 2000 Antwerp

Contact