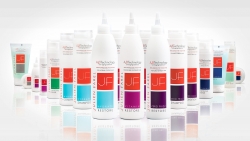 New York, NY, December 17, 2013 --(
PR.com
)-- The scientific advances that have been made in skincare have literally transformed the haircare category over the last few years, and Julien Farel Anti-Aging Haircare is one of the most notable brands leading the category of Anti-Aging haircare. In the highly competitive haircare industry dominated by global megabrands, Julien Farel – long considered a "power hairstylist" with over 30 years of experience and clientele ranging from A-list celebs to Fortune 500 business leaders – launched the ground-breaking product line in 2011 that actually gave rise to the Anti-Aging haircare revolution.
"A growing global market and a highly educated consumer base has opened new opportunities for our brand," according to CEO Suelyn Farel, who's played an instrumental role as the driving force behind the business development of The Julien Farel Group. Under her leadership, Julien Farel Anti-Aging Haircare has expanded its distribution internationally to some of the most prestigious retailers in the world, including Bergdorf Goodman, La Rinascente and Le Bon Marche.
Julien Farel Anti-Aging Haircare was formulated in collaboration with a renowned Italian scientist who has been utilizing Hyaluronic Acid and Anti-Aging ingredients for over 40 years. With extensive research and clinical development in plant-based cosmetics, he and Farel spent five years expertly applying the science of skincare to haircare to create a 22-sku product line. Made in Italy, the line is powered by an exclusive Anti-Aging Balance 'A2B' Technology that delivers clinically proven Anti-Aging Bioactives directly to the follicle, scalp and hair shaft. The outcome is intense hydration, targeted repair, and vital protection.
"Grass does not grow in sand. Likewise, healthy hair doesn't grow from a barren scalp. The only haircare products that truly work are those that focus on delivering powerful nourishing ingredients to the follicle, scalp and hair," says Farel. Shampoos are Sodium Laureth Sulfate free, and products are dermatologist recommended and paraben free. The entire line is created to deliver individualized results for all hair types including, but not limited to, fine to thick, frizzy to smooth, curly to straight, and colored and chemically treated hair.
Julien Farel Anti-Aging Haircare gives women and men the building blocks to better hair starting with scalp treatments and daily care inclusive of Hyaluronic Acid. The styling products leverage the exclusive A2B Technology with rich anti-oxidants and moisturizing Bioactives. Also included in the product line is an Anti-Aging, hydrating Hand & Body Wash.
The brand's hero product, Restore, referenced as "Magical" by W magazine and "The Game Changer" by The Wall Street Journal, is a first of its kind cleanse-treat-condition formula designed to revitalize and nourish the scalp, creating the optimal environment for healthier, shinier, more manageable hair after just one use. Farel explains that this product "reactivates and rehydrates every cell in your scalp to make hair young again."
The New York City born, French-American Julien Farel Group is driving innovation in the beauty industry not only through its transformative products, but also through its unique services. Masters in hairdressing, aesthetics, dermatology, body treatments and fitness, their multi-disciplinary approach to beauty has a refined focus on Anti-Aging techniques and technology, delivering age-defying hair, face, skin and body. "We are always looking for ways to take Anti-Aging to the next level and exceed the client's expectations in every aspect of the word," says the CEO. "Our success as a brand is a reflection of our commitment to helping individuals look and feel their absolute best and delivering a powerful beauty result."
With salons in New York, Miami and Cabo San Lucas, The Julien Farel Group also includes JF Gymnastique, a private studio offering a holistic fitness and wellness experience. In early 2014, Farel will relocate the Madison Avenue Flagship Salon to the iconic Loews Regency Hotel on Park Avenue, unveiling a new 10,000-square-foot beauty flagship, complete with a full-service Anti-Aging salon, spa, fitness studio, and the brand new JF Men, a full-service men's grooming salon. Farel has also been the Official Stylist of the US Open Tennis Tournament since 2007, giving world-class tennis players an aesthetic – and psychological – edge.
This fully integrative approach, which marries inner beauty based on health, wellness and well-being with the creativity and artistry of aesthetics, is setting a new bar in the approach to Anti-Aging and revolutionizing the entire beauty industry. What does Julien Farel think about his own transformation from hairstylist and salon owner to product innovator and industry thought leader? "It's keeping me young," he is quick to reply.
For more information, visit
www.julienfarel.com
.