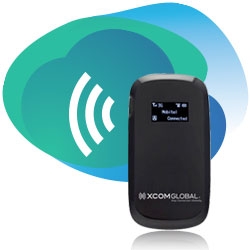 San Diego, CA, December 19, 2013 --(
PR.com
)-- XCom Global, Inc., a leading provider of reliable 3G/4G wireless Internet access rental services for international travelers, announced today it is providing internet connectivity in the Philippines to relief workers from the Red Cross, ShelterBox and Jordan International Aid.
"We have provided our
Disaster Relief Internet Access
rental service at no charge to assist in relief efforts in that past and have been told our service is invaluable," said Joe Fennell, Chief Operating Officer (COO), XCom Global, Inc. "Our hearts go out to the victims of this disaster and we are lending a hand the best way we know how. It brings us great joy to hear about the wonderful work of these organizations knowing we are playing a role to help them carry out their important missions."
Jordan International Aid arrived in Tacloban with 700 pounds of medical supplies provided by AmeriCares and a dozen medical personnel. This is just the beginning stages of their planned relief efforts. ShelterBox has committed to providing tents and vital equipment to shelter nearly 6,500 families. They have a response team of 24 highly-trained disaster relief experts on the ground and will stay into 2014 to get the job done. The Canadian Red Cross has been seeing to the essential health needs of over 100,000 people on the heavily-damaged island of Leyte.
"We are so grateful to have the use of XCom Global mobile hotspots in the Philippines," said Gwendolen Eamer, Media Advisor, Canadian Red Cross. "As you can imagine, being able to connect online is critical in the field. In the past we have relied on satellites for Internet access, which can be expensive and temperamental. XCom Global's mobile hotspot devices provided us with the ability to reliably access specific, up-to-date information that our teams required."
XCom Global has negotiated discounted rates in over 175 countries so they can offer travelers international data plans at a low fixed rate. Travelers arrange for their coverage before they set out on their trip so they can have an affordable data connection upon arrival by simply powering up their XCom Global Mobile Hotspot. The mobile hotspot is battery powered, fits in your pocket, and connects to 3G/4G wireless networks. It provides private and secure Internet access for up to ten devices using the latest in security technology, including WPA2 and IPSEC for VPN pass-through. Since the service is a flat-fee rental, travelers have the comfort of knowing the exact cost of staying connected and can avoid counting megabytes or incurring expensive roaming fees.
About XCom Global, Inc.
Headquartered in San Diego, Calif., XCom Global, Inc. is a leader in providing secure, low-cost, high-speed wireless Internet access to business and leisure travelers. The company offers Wi-Fi device rentals with broad worldwide coverage at rates substantially below standard international roaming charges. XCom Global is a U.S. subsidiary of an established Japanese company that has been in the forefront of providing travelers with innovative wireless communications services since 1995. For more information, please visit www.xcomglobal.com, call 877-520-8242 or contact us at info@xcomglobal.com. In addition, get updates and travel tips by connecting with us on Facebook and Twitter.