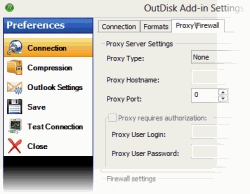 Minneapolis, MN, December 27, 2013 --(
PR.com
)-- Firewalls and inbox size restrictions have made it more difficult than ever to share files as attachments to email messages. While file sharing services exist, they are often not the best choice due to concerns about HIPAA regulations, and questions about privacy, snooping, and data retention policies that remain beyond the sender's control.
Thanks to the OutDisk FTP add-on, Microsoft Office Outlook users can now easily upload file attachments from their emails directly to a server that remains under their complete control. OutDisk is a practical solution for companies that want more control over their data their users need to share in the process of conducting the company's business.
From the sender's perspective, an Outlook email message is composed and files are attached to the email, as usual. The sender can click the "Use OutDisk" button to manually activate the upload, or the upload can be triggered by exceeding a file size threshold. The size threshold may be set to 0 bytes to upload all files.
Any file exceeding the size threshold is automatically uploaded to the company server, and a link to the file is inserted into the email message. The file remains on the server until the recipient downloads it, after which it can be removed automatically or manually according to company policy.
OutDisk supports secure FTP uploads to the server. The host server can be configured so that downloads occur over a strong encrypted TLS or SSL connection.
OutDisk FTP is available as a single license package, or as an enterprise package supporting unlimited numbers of users.
While OutDisk FTP includes a professional add-on for Microsoft Outlook, it can also be used as a standalone Windows desktop application.
For a single license, OutDisk FTP costs US$49.99. Discounts are available for multiple licenses, and an unlimited license is available for US$4999. A free 15 day trial of OutDisk is available at https://www.encryptomatic.com/outdisk/
Verifiable bloggers and journalists who wish to review the full version (not trial) of OutDisk can receive a free license by contacting the Encryptomatic.com sales team at 1-651-815-4902 x1, or email sales at encryptomatic.com.