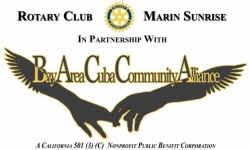 San Rafael, CA, January 07, 2014 --(
PR.com
)-- Local Warming of Cuban-US People to people relations.
The Nonprofit Organization, Bay Area Cuba Community Alliance (BACCA) in partnership with Rotary Club of Marin Sunrise present an evening of authentic Cuban food and live Cuban music to raise funds for a potable water works project in rural southeastern Cuba. The community is invited to spend an evening in the tropics enjoying food catered by The Bay Area's renowned, Our Cuban Kitchen, and dance music by Tito and Su Son de Cuba, and local Cuban spinner, DJ Leydis. A silent auction with a great array of art items, some by Cuban artists, and a range of local services will be online at www.baccagroup.org. Patrons of the event will have the exciting opportunity to bid on an upcoming BACCA sponsored, licensed trip to Cuba in the spring to see for themselves the local community which will benefit from the project.
This lively fundraising event will take place at the San Rafael Community Center at 618 B Street in San Rafael, CA on Sunday, February 16th, 2014 from 5:00-10:00pm. The minimum suggested donation is $50 in advance and $60 at the door. Donations are optional for children under 12.
Tickets can be purchased online at
http://baccagroup.org/fundraiser-event.html
BACCA's goal is to provide humanitarian assistance and to support community empowerment in underserved Cuban communities through collaborative local, sustainable, grassroots projects. More information is available at the Bay Area Cuba Communty Alliance www.baccagroup.org and www.ecoloniaNuevoMundo.com.
Email: pkirson@baccagroup.org
Phone: 415-454-8775. Write: 39 Belmont Ave. Fairfax, CA 94930. pbasker@baccagroup.org Like us on Facebook at Bay Area Cuba Community Alliance.