Rentricity Wins NYSERDA Award to Study City of Albany in-Pipe Hydro Clean Energy Project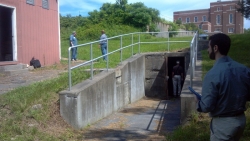 New York, NY, January 06, 2014 --(
PR.com
)-- Rentricity Inc., which makes technology that generates electricity using water pressure in pipes, has been awarded approximately $100,000 from the New York State Energy Research and Development Authority (NYSERDA) to study the technical issues and benefits of installing a water pipe-based electrical power generation system at the Albany Water Board's Feura Bush Treatment Plant.
The award builds on Rentricity's agreement with the Albany Water Board to finance the installation of a 100-kilowatt Rentricity Flow-to-Wire system. Due to concern about equipment vibration on the 80-year-old intake pipe, Rentricity will undertake a design study that includes a system to assess vibration and potential damage to the pipe. The 250-foot-long, three-foot-wide pipe brings water via a gravity feed from the Alcove Reservoir to the treatment plant. The ten-month project will provide a full assessment, preliminary design and pipeline protection plan by June 2014.
"We are pleased to be working with Albany and NYSERDA on our first New York Capital Region project," said Frank Zammataro, Rentricity's CEO and Founder. "We look forward to providing the upstate region with a great example of how old infrastructure can be safely retrofitted with new equipment to create a smart and sustainable water distribution capability."
A more traditional turbine-based power generation system installed on the pipe in the 1980s had been decommissioned by the city years ago due to concern about vibration damage. The City prides itself on sustainability says John Kosa, Deputy Water Commissioner. "Our hope is to re-establish the program with financing from Rentricity to offset our electricity costs at our water treatment plant," he said. "The City of Albany thanks NYSERDA for its role in helping to move this project forward."
If Rentricity's study shows that its project is feasible, Rentricity is expected to install its technology at the site and pursue a program to sell the electricity with National Grid. The company also plans to use the NYSERDA incentive to create a pipeline protection program that can be applied to older water distribution networks around New York, in other states and internationally, officials said.
"The technology developed by Rentricity, a clean-energy company created through the State's incubator program, has the potential to help the City of Albany lower its operating costs and energy use," said John B. Rhodes, President and CEO, NYSERDA. "This technology also supports Governor Cuomo's goal of reducing draw on the electric grid while making the electricity more affordable and the delivery more efficient."
About Rentricity: Based in New York City, Rentricity Inc. is a renewable energy company that uses unique energy recovery configurations to transform untapped energy within various man-made water, wastewater, irrigation, and industrial infrastructure into clean electricity. The energy recovery systems convert excess pressure in water pipes and conduits into clean, electric power. Since this electricity can be sold onto the grid, Rentricity provides its customers with an additional source of revenue and a way to offset rising electricity rates while supporting local renewable energy goals. (www.rentricity.com)
About NYSERDA: The New York State Energy Research and Development Authority (NYSERDA) is a public benefit corporation created in 1975 under Article 8, Title 9 and Title 9A of the State Public Authorities Law through the reconstitution of the New York State Atomic and Space Development Authority. NYSERDA's aim is to help New York meet its energy goals: reducing energy consumption, promoting the use of renewable energy sources, and protecting the environment.
About the Albany Water Board: The Albany Water Board provides pure and wholesome water for the City of Albany. The Board manages public lands, reservoirs, filter plants, aqueducts, rights-of-way, watercourses and drainage areas. The Board also creates surveys, maps, plans, specifications, estimates and investigations of proposed dams, reservoirs, aqueducts, sluices, culverts, canals, pumping works, bridges, tunnels, blow-offs, ventilating shafts, filters and conduits and other works of construction.
Contact
Rentricity Inc.
Frank Zammataro
732-319-4501
www.rentricity.com

Contact