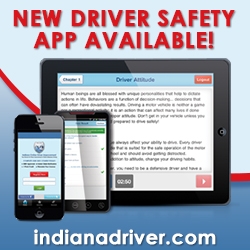 Indianapolis, IN, January 08, 2014 --(
PR.com
)-- Drivers in Indiana can now attend a driver safety program from their Smartphone or tablet. A new mobile app, approved by the Indiana Bureau of Motor Vehicles, is offered by IndianaDriver.com. The company has been the leading provider of defensive driving courses in the state for over 12 years.
"Our new Indiana defensive driving mobile app is great! We are constantly on our phones, so creating this application is a natural progression in the driver safety world," said company President Lisa Warren. The interactive features of the defensive driving app will make it fun and virtually seamless to complete from almost anywhere. Best of all, drivers won't need to fill out paperwork, wait in line, or drive anywhere because everything is done entirely through the mobile app.
The free app is available in the Google play and iTunes stores and is perfect for people looking for a convenient way to meet their BMV requirements. Completion of the course will remove up to four points from the driver's record, preventing license suspension or reinstating driving privileges.
This innovative Indiana defensive driving mobile app is an ideal alternative for drivers searching for a BMV approved program that will allow them to study on-the-go. With this new app, drivers won't be confined to a computer screen or a classroom, and will be able to log on and off as their schedule allows.
The content covered in the defensive driving app is exactly the same as the online and streaming video versions of the course that has served hundreds of thousands of students. Convenient options, like text message notifications and instant downloads of completion certificates make the defensive driving app a perfect solution for everyone.
If you would like more information about the Indiana defensive driving mobile app, the company, or to schedule an interview with Lisa Warren, feel free to email Lenea Gutierrez at leneag@omswebmail.com.