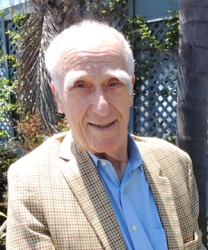 Los Angeles, CA, January 22, 2014 --(
PR.com
)-- Shelly Lowenkopf's The Fiction Writer's Handbook is riding high on the Amazon/Kindle bestseller list, in the Top Five for books and eBooks on writing skills. However, he's not an overnight sensation. His book is a product forty years of teaching creative writing and nearly as many years as an editor in the publishing industry. Also, many of Lowenkopf's insights come from his voracious reading of the classics and more. His gem of a handbook comes from the boutique press White Whisker Books in Los Angeles.
The Fiction Writer's Handbook is the definitive volume to explain the words and phrases that writers and editors use when they talk about a work. In the highly competitive publishing world, today's writers need to stay ahead of the competition and make every sentence count. This book will help new writers who need an understanding of the writing process, and seasoned writers will dive into a refresher course with new angles.
As reviewer Marc Schuster (Small Press Reviews) explains, "A longtime writing instructor, Lowenkopf advises readers to choose one of the terms of art included in the book's list of entries – 'Mickey Mouse Ending,' for example – then to dive in head-first and see where the entries take you. A quick glance at the entry for 'Mickey Mouse Ending' reveals that the term refers to 'The ending to a short story or novel in which justice triumphs with the loud tap of the gavel.' The entry goes on to further explicate the term in useful detail."
Fred Klein, former vice-president of Bantam books, calls Lowenkopf's masterwork, "Handy, snappy, and insightful."
As Mr. Lowenkopf writes in the book's foreword, "I wanted to produce the book you could pick up at any page and be led by your own needs and curiosity rather than the logic pattern of a development editor. This book will inspire writers to take chances and cause readers to want to come along for the ride, all the way to surprise and enjoyment."
Shelly Lowenkopf taught in the University of Southern California's Master of Professional Writing Program for 34 years. He is currently Visiting Professor at the College of Creative Studies, University of California at Santa Barbara, with classes in noir fiction, the modern short story, genre fiction, and developing a literary voice. Living in Santa Barbara, Lowenkopf has served as editorial director for literary, general trade, and mass market book publishers. His first collection of short fiction Love Will Make You Drink and Gamble, Stay Up All Night will be published March 13th. He will be reading at Vroman's Bookstore in Pasadena at 7 p.m. that night.
White Whisker Books is a small press with four authors based in Los Angeles.