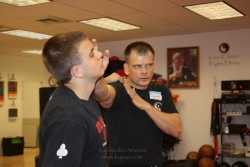 Mesa, AZ, January 24, 2014 --(
PR.com
)-- Fact: Every 40 seconds in the United States, a child is reported missing or abducted, according to the Department of Justice.
But the staff of Kajukenbo AZ doesn't want women and children of the valley to be scared – they want them to be prepared to defend themselves! Each quarter, the school hosts its Self Defense classes for women and children at both the Mesa/Tempe and Gilbert locations at no charge. They just ask for your help in spreading the word!
The 60-minute instruction covers a variety of useful and powerful techniques including kicks, strikes, defenses from front grabs, hair pulls, back grabs, arm grabs and even verbal techniques. Children will increase their awareness of their surroundings, learn new skills and gain confidence!
Fact: The best way for a child to stop a bully is for that child to feel confident. A self-defense class can give children and teens the self-confidence and enhances the skills they need to walk away from a bully's challenge without long-lasting damage OR, if necessary, defend him or herself.
Classes for Children ages 5 years and older begin at 10:00 am and classes for Women ages 14 years and older start at 11:30 am. Younger students are welcome to sit in the room during the adult training or are welcome to wait in the adjacent homework rooms. Each student receives a two-week pass to continue training and learn more. Students are encouraged to wear loose fitting athletic wear.
The dates for the 2014 classes are:
February 1, 2014
May 3, 2014
August 16, 2014
November 1, 2014
Kajukenbo Arizona has two convenient East Valley locations and seminars will be held at both:
101 & Baseline: 2602 West Baseline Road, Mesa, AZ 85202
Chandler Heights & Recker: 3978 East Chandler Heights Blvd, Gilbert, AZ 85298
You can find Kajukenbo Arizona on the web at www.kajuaz.com on Facebook at
https://www.facebook.com/kajukenboarizona
, on Twitter @Kajuaz, via email at
info@kajuaz.com
or call: 480.755.3008.