Arizona's Arrowhead Grill Offers Couples Romantic Valentine's Day Dinner
Arrowhead Grill's 5-Course Valentine's Day Dinner Helps Couples Embrace a Weekend of Romance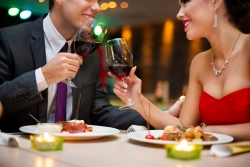 Glendale, AZ, January 29, 2014 --(
PR.com
)-- Arrowhead Grill is offering couples a lavish night with indulgent drinks and an opulent 5-course dinner for a romantic Valentine's Day weekend.
The Valentine's Day celebrations begin on Thursday with Arrowhead Grill's decedent five-course dinner for only $69.99 per person available Thursday, Friday and Saturday evenings.
"Words often cannot express how we feel about someone," said Chef Charles W. Schwerd, owner of Arrowhead Grill. "Our guests can show their love with a decadent dinner and a night of enticing food, drinks and desserts."
The lavish four-course meal will begin with the choice of an appetizer such as shrimp cocktail, pretzel fondue, pig wings, or Rhode Island style calamari, tempura-battered squid mixed with cherry peppers and baby corn tossed in a light and tangy citrus vinaigrette.
The second course offers guests the choice of either a chopped salad, a combination of mixed greens, iceberg and romaine chopped and mixed with heirloom tomatoes, or a Caesar salad, romaine lettuce tossed in a tasty garlic vinaigrette dressing with a hint of anchovies topped with croutons and Parmigiano-Reggiano cheese.
The main course includes a decadent selection of AG favorites including a juicy 8-ounce New York strip, an 11-ounce portion of lamb rack, succulent 10-ounce prime rib, sea trout, light and flavorful salmon, savory pork porterhouse or AG's sizzling signature 10-ounce Delmonico steak.
Guests can indulge and add an 8-ounce lobster tail to their entreé for $15 or 8-ounces of merus king crab for $20.
Pairings include delicious traditional mashed potatoes, asparagus, sauteéd broccoli, creamed corn, sautéed mushrooms and caramelized sweet onions, creamed spinach or AG mashed potatoes for perfectly matched main courses.
Sweethearts can indulge in a decadent dessert finale by choosing from an opulent selection of Arrowhead Grill's famous desserts, such as AG's butter cake, a decadent flourless chocolate cake, a romantic chocolate fondue with strawberries for dipping, or rich and creamy raspberry or strawberry cheesecake.
"Valentine's Day is a night to embrace your passions," said Schwerd. "During Valentine's Day weekend, guests can spend an evening with that special someone enjoying a romantic and luxurious dinner at Arrowhead Grill."
Guests can pair their meals with fine wines, mixed drinks and champagne from Arrowhead Grill's extensive drink menu, http://uncorkd.biz/widget/new_widget.html?venue=Arrowhead.
Reservations for Valentine's Day at Arrowhead Grill are available at (623) 566-2224.
For more information about Arrowhead Grill visit www.arrowheadgrill.com. To get the latest news about events, wine tastings and specials, follow Arrowhead Grill on Twitter at www.twitter.com/arrowheadgrill and on Facebook at www.facebook.com/arrowheadgrill.
Known as one of the Valley's best steakhouses, Arrowhead Grill is located at 8280 W. Union Hills Dr. (Loop 101 and Union Hills) in Glendale.
About Arrowhead Grill
Established in 2008 by renowned Valley chef Charles Wade Schwerd, Arrowhead Grill epitomizes Schwerd's two decades of steakhouse experience, offering Valley residents a diverse menu of top quality steak and seafood. Featuring all natural meats and fresh, mercury-free seafood selected especially for Arrowhead Grill, the Glendale-based restaurant offers something for everyone in a sophisticated setting. For more information, please visit www.arrowheadgrill.com.
Contact
Arrowhead Grill
Al Stevens
480-648-1770
www.arrowheadgrill.com

Contact
Multimedia
The Valentine's Day celebrations begin on Thursday with Arrowhead Grill's decedent five-course dinner for only $69.99 per person available Thursday, Friday and Saturday evenings.