"Old Black Dyke™" Starring (EqualityV​A Winner) Gaye Adegbalola​, Premieres Monday, Feb. 24th 9 PM on Stageit! Online Network
"Old Black Dyke™", starring Equality Virginia's OUTstanding Award Winner, Gaye Adegbalola, premieres Monday, February 24, 2014, 9 PM EST, streamed live on Stageit! online network.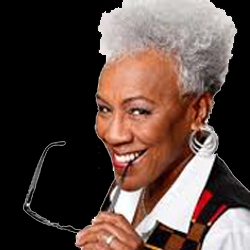 Fredericksburg, VA, January 31, 2014 --(
PR.com
)-- We guarantee that there is nothing like Old Black Dyke™, starring Gaye Adegbalola (AH-DEG-BAH-LO-LAH), seen on television today. We are excited to tell the world about this new show, which premieres on the Stageit network (www.stageit.com), on Monday, February 24th at 9 PM, Eastern Standard Time. There are plans for the show to air monthly, every fourth Monday.
Gaye Adegbalola, (www.adegbalola.com), a Blues Music Award winner, is known for her joyful, outspoken women's blues. She was a founding member of "Saffire - the Uppity Blues Women" and presently tours solo, duo and with The Wild Rutz. She has 15 recordings in international distribution, including four on her own record label. As she passionately states in her songs and in her life example, she sees herself as a contemporary griot -- shaping history, delivering messages of empowerment, ministering to the heartbroken, and finding joy in the mundane. As Gaye puts it, "JOY is my religion!!"
Now, Gaye as Old Black Dyke™ takes her music and her wise thoughts and mixes them with her spicy sense of humor to uniquely entertain her audiences. Those who tune in will get a dose of this OBD's shamelessness -- the "what-can-you-possibly-do-to-me" attitude of one who not merely survives, but thrives! This attitude allows Gaye to speak her mind, shake her ass, and share her heart. She has so much MOJO to give!
As Gaye Adegbalola tells it, "This show will remove all the negativity that 'old' carries, that 'black' carries,that 'dyke' carries". She continues: "There are many, many Old Black Dykes, OBD's, in the world, who are unseen, unheard, underappreciated, and disrespected. Everyone wants a little R-E-S-P-E-C-T. Find out what that means to an OBD. One must find humor in the pain...the pain of being oppressed as a "less-being" (a play on the word lesbian), black, poor, a single parent, a woman, and now, old."
Old Black Dyke's Gaye Adegbalola will speak about many topics that you will surprisingly (and not so surprisingly!) relate to. Topics about your health, your relationships, the state of a constantly changing society, even how to maximize your mind, body and spirit. Gaye says: "You will see that this Old Black Dyke has done a lot of living, and is ready to share her secrets for 'wallowing in the wisdom of old age, while staying young at heart'." Gaye will welcome you to a first hand, up-close and personal look at an OBD and allow you to experience an OBD's world.
Gaye will be supported by the Wild Rutz (Roots), her house band, and Dr. Gloria Jackson. Dr. Jackson is a practitioner of medical nutrition and will give the keys for OBDs, and all viewers, to maximize their health by ridding toxins, using nutrients, and avoiding pharmaceuticals.
To see more and get to know Old Black Dyke™, you can get a taste by viewing the teasers HERE:
Teaser 1:
http://www.youtube.com/watch?v=NoWH-hseecc
Teaser 2:
http://www.youtube.com/watch?v=Ih3rOInQG8A
For sign-up information regarding Old Black Dyke™ program, and for more information, visit oldblackdyke1@gmail.com today.
Please forward the link, and follow @OldBlackDyke on Twitter and join her Facebook page at: https://www.facebook.com/oldblackdyke
Old Black Dyke™ is a Cotton Pickin' Music Production. www.cottonpickinmusic.com
Old Black Dyke™. JOY is her Religion! Come and share in her Mojo!
Contact
Abbe Buck PR
Abbe Buck
1-800-380-2825
www.abbebuckpr.com

Contact