Brooks Entertainment -Star Cigar- Builds Billion Dollar Intellectual Property
Billion Dollar "Stick" for the S.O.B™ Cigar and Republic Technologies LLC.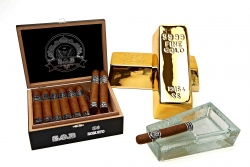 Punta Cana, Dominican Republic, February 17, 2014 --(
PR.com
)-- The S.O.B™ dominican cigar intellectual property, wholly owned by Brooks Entertainment Inc. has emerged in growth. Republic Technologies France is the world's biggest factory for the production of rolling paper booklets, with an annual production capacity of a billion booklets. Also, Republic Technologies LLC. is the France based corporation and owner of JOB, OCB, and Zig-Zag (
http://republic-technologies.com/en/production-network/
). On August 14, 2013 according to the (TTAB) Trademark Trial & Appeal Board proceeding involving case no. 91212024, Brooks Entertainment Inc. became legally represented by Beverly Hills Bar Association law firm,
M.E.T.A.L Law Group
. The legal proceeding is to resolve a S.O.B™ cigar intellectual property negotiation settlement, opposition, or merging partnership with Republic Technologies LLC. (http://www.metallawgroup.com/Who-We-Are/Our-Team.aspx, http://www.metallawgroup.com/Who-We-Are/Our-Team.aspx#Richard). A resolution could be on its way with a proceeding date set for March 2014. The S.O.B™cigar invented by Shon Brooks continues to top the charts. (
www.SOBcigars.com
)
The S.O.B™ brand has 5 characters, including letters and periods. The unique, aboriginal trademark historically received the highest (GPA) Grade Point Average and (QPA) Quality Point Average ratings prior to utilizing any cigar trade show booth marketing. Brooks Entertainment Inc. protects it's top shelf S.O.B cigars™ and Hand Made S.O.B™ Dominican Republic intellectual property rights in registration number 001-0945495-9. Also, it is protected in the USPTO and Copyright registration numbers 85/551,808 and VAu 1-071-810. Meanwhile, the S.O.B™ cigar continues to sell out and be in mass production globally. It was featured and showcased during May 2013, when the Hard Rock Casino, Punta Cana signed Shon Brooks™ to an endorsement contract.
http://www.pr.com/press-release/502960
"The S.O.B™ luxury cigar brand was created for the Vanquisher that plays the cards that has been dealt in life to win and not fold! It is vital that you remain ethical at all times even though others may bend the rules of life. Pressing on is when you begin to obtain Rock Star status!" (Says the company's mission statement)
The S.O.B™ Star Cigar is a non-downloadable hit with 100% Dominican tobacco leaves that date back to 1894 through Tabaqueria Carbonell CXA. Brooks Entertainment puts an international stamp on the cigar industry. Also, 25 percent of the profits have already been donated to the Laura Mercier Ovarian Cancer Fund http://www.lmocf.com/. The first United States retailer to market the extremely rare S.O.B™ Torpedo and Robusto cigar was the Habana Club Cafe located in Horton Plaza within the downtown San Diego Gaslamp Quarter. The Habana Club Cafe provides front door, free consumer shipping to all cities in the United States for that A- List cigar aficionado.
http://www.facebook.com/pages/Habana-Club-Cafe/182221200328#!/photo.php?fbid=182224115328&set=a.182221450328.160388.182221200328&type=1&theater
When asked of Shon Brooks, CEO about how some older companies have lost their innovative spirit by partaking in trademark infringement and false claims? Shon says, "Trademark infringers remind me of the time in grade school when my teacher graded my exam paper that was an 'A' and noticed that two other individuals had the same exact answers. The teacher could not determine who had copied, so she made everyone retake the same exam. When I had scored an even higher grade than before and the others had failed, showed the examiner who had infringed and who did not. The teacher's lesson taught me that sometimes I had to do things more than once, if I wanted to prove that I was more authentic."
Shon Brooks is a Time Warner - TV Editorial Excellence Award Winner for covering the Olympic Games, noted Game Changer by Invention Magazine, and named Superhero by 'On Wall Street' Magazine and Financial Planning Magazine. Herald for his bravery in altering history may deem him one of the greatest of all time. The S.O.B™ cigar brand does not include the values of its separate hit trademark brand -"S.O.B Television™". Brooks Financial & Entertainment Consultants protects it's S.O.B Television™ title of work and alternative titles Save One Bank™ in USPTO trademark registration 4,287,528. The brand's copyright motion pictures registration is PA 1-716-431. This is boosted by Stock Picker™trademark registration 3,921,420. The additional copyright registrations are TXu 1-684-440 and PA 0001788514. Brooks increases its protection in S.O.B Television™ production, "non-contestable", trademark registration 3,310,233 and copyrights with alternative titles. By keeping ownership of the S.O.B™television rights and digital innovative content allows the corporation to maintain management control of its strict selection of television traffic spots and endorsement deals. The audience engagement and viewership is anticipated to increase with the (FAA) Federal Aviation Administration's approval of airline inflight travelers being able to connect to the internet above 10,000 feet. (
www.ShonBrooks.TV
)
Brooks Financial & Entertainment Consultants and its innovative unplugged brands has surged and reaccelerated to estimated views of over 3 milliard worldwide (including China and India). The aforementioned short scale totals do not include Shon Brooks' NFL, NBA, prime-time Cox-Media interconnect traffic spots or affiliates through AT&T U-verse, Direct TV, or NCM movie trailers. However, the Shon Brooks, S.O.B Television™ pre-show countdown movie trailers have aired and have been integrated during the following in theater movie releases within selected (NCM) National Cinema Movie markets:
See Movie Titles, Distributors and Domestic Box Office Numbers below.
Bad Boys 2 (Sony) $138,540,870
Pirates Of Caribbean (Buena Vista) $305,411,224
Finding Nemo (Buena Vista) $380,529,370
Lizzy Gaguire Movie (Buena Vista) $42,734,455
Freaky Friday (Buena Vista) $110,222,438
Collateral (Dreamworks) $100,170,152
Envy (Dreamworks) $13,548,322
Sinbad: Leg. of 7 Seas (Dreamworks) $26,483,452
League of Ext. Gentle (20th Century) $66,465,204
Pokemon 5 (Miramax) $744,928
Spy Kids 3 (Miramax) $111,760,631
Shaker Heights (Miramax) $280,351
My Boss's Daughter (Miramax) $15,549,702
Dumb & Dumber: Pre (New Line) $26,214,846
How To Deal (New Line) $14,108,518
Freddy Vs. Jason (New Line) $82,622,655
Italian Job (Paramount) $106,126,012
Rugrats Go Wild (Paramount) $39,402,572
School of Rock (Paramount) $81,261,177
Tomb Raider 2 (Paramount) $65,653,758
The Fighting Temptations (Paramount) $30,238,577
Marct X (Paramount) $1,646,664
Daddy Day Care (Sony) $104,148,781
Hollywood Homicide (Sony) $30,207,785
Charlie's Angels 2 (Sony) $100,814328
S.W.A.T (Sony) $116,877,597
In The Cut (Sony) $4,717,455
Legally Blonde 2 (UA/MGM) $90,639,088
Molly Gunn (UA/MGM) $37,095,657
Jeepers Creepers 2 (UA/MGM) $37,904,175
Bruce Almighty (Universal) $242,704,995
2 Fast 2 Furious (Universal) $127,120,058
The Hulk (Universal) $132,177,234
Seabisquit (Universal) $120,277,854
A.M. Wedding (AM.Pie 3) (Universal) $104,354,205
Johnny English (Universal) $28,013,509
Hairy Tale (Warner Bro) $0
Matrix: Reloaded (Warner Bro) $281,553,689
The In -Laws (Warner Bro) $20,440,627
Alex & Emma (Warner Bro) $14,208,384
Terminator 3 (Warner Bro) $150,358,296
Exorcist: Beginning (Warner Bro) $41,814,863
Matchstick Men (Warner Bro) $36,873,198
Grind (Warner Bro) $5,111,630
Shape of Things (FCS) (Indies) $732,241
28 Days Later (FS) (Indies) $45,064,915
Godsend (Indies) $14,334,645
Madison (Indies) $517,262
25th Hour (EXP) (Buena Vista) $13,084,595
The Recruit (Buena Vista) $52,784,696
Shanghai Knights (Buena Vista) $60,470,220
Jungle Book 2 (Buena Vista) $47,901,582
Bringing Down House (Buena Vista) $132,675,402
Piglet's Big Movie (Buena Vista) $23,103,423
Ghost of the Abyss (Buena Vista) $17,093,668
Holes (Buena Vista) $67,383,924
The Terminal (Dreamworks) $77,073,959
Biker Boyz (Dreamworks) $21,908,034
Old School (Dreamworks) $75,155,000
Head of State (Dreamworks) $37,788,228
Antwone Fisher (20th Century) $21,078,145
Just Married (20th Century) $56,127,162
Daredevil (20th Century) $102,543,518
Phone Booth (20th Century) $46,566,212
Chasing Papi (20th Century) $6,126,237
From Justin To Kelly (20th Century) $4,922,166
Garfield (2Oth Century) $75,367,693
Chicago (EXP) (Miramax) $170,687,518
Conf. of A Dang. Mind (Miramax) $16,007,718
Chicago (Wide) (Miramax) $170,687,518
View From The Top (Miramax) $15,614,000
Dysfunktional (Miramax) $2,255,000
About Schmidt (EXP) (New Line) $65,005,217
Final Destanation 2 (New Line) $46,896,664
Willard (New Line) $6,882,696
A Man Apart (New Line) $26,500,000
Narc (Wide) (Paramount) $10,465,659
Hours (EXP) (Paramount) $41,675,994
How To Lose a Guy (Paramount) $105,807,520
The Hunted (Paramount) $6,420,615
The Core (Paramount) $31,111,260
National Security (Sony) $36,288,951
Darkness Falls (Sony) $32,539,681
Tears of The Sun (Sony) $43,632,458
Basic (Sony) $26,599,248
Anger Management (Sony) $135,560,942
Identity (Sony) $52,131,264
Barbershop 2: Back (UA/MGM) $65,070,412
A Guy Thing (UA/MGM) $15,543,862
Dark Blue (UA/MGM) $9,237,470
Agent Cody Banks (UA/MGM) $47,545,060
Assassination Tang (UA/MGM) $1,000,673
B'Proof Monk (UA/MGM) $23,010,607
City of Ghosts (UA/MGM) $325,491
It Runs in The Family (UA/MGM) $7,375,836
Guru (LTD) (Universal) $2,096,000
Guru (EXP) (Universal) $2,096,000
Life of David Gale (Universal) $19,694,635
Blue Comedy (REG) (Warner Bro) $0
Kangaroo Jack (Warner Bro) $66,723,216
Gods & Generals (Warner Bro) $12,882,934
Cradle 2 Grave (Warner Bro) $34,657,731
Dreamcatcher (Warner Bro) $33,685,268
What a Girl Wants (Warner Bro) $35,990,505
A Mighty Wind (Warner Bro) $17,583,468
Malibu's Most (Warner Bro) $34,308,901
The Pianist (LTD) (Indies) $32,519,322
Deliver Us From Eva (Indies) $17,573,594
Boat Trip (Indies) $8,586,376
Bend It Like Beckham (Indies) $32,543,449
House of 1000 Corpe (Indies) $12,634,962
Confidence (Indies) $12,212,417
Paparzazzi (20th Century) $15,712,072
Virgin (Artistic License) $9,501
Vanity Fair (Focus Features) $16,123,851
Spiderman (Sony) $373,524,485
The pursuit of Happiness (Sony) $162,586,036
The Passion of The Christ (New Market Films) $370,782,930
For Media confirmation of in theater box office numbers, please contact Chad Everhart located at NCM Cinema Network
http://www.ncm.com/about-us
. (All 2010 Shon Brooks movie premier integrations were omitted for conservative measurements.) As for the S.O.B™cigar TTAB proceeding follow
http://www.uspto.gov/trademarks/process/appeal/
Contact
S.O.B Cigars
Paris Crosby (Retailer and Public Relations Calls Only)
619-575-0242
www.SOBcigars.com
S.O.B Cigar Authorized Retailer - Habana Club Cafe 858-231-6673 780 4th Ave
(between G St & F St)
San Diego, CA 92101
Neighborhood: Gaslamp

Contact