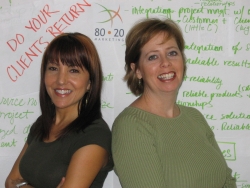 Phoenix, AZ, September 29, 2007 --(
PR.com
)-- Cara Hughes began her new company, Eighty-Twenty Marketing, Inc., to offer businesses a smart approach to growing business with a strategic plan created through a careful evaluation of a company's most loyal customers.
Eighty-Twenty Marketing also provides marketing departments a new level of expertise in creating and implementing loyalty programs grounded in a solidly researched perspective that can help generate long-term results.
Hughes' expertise is grounded in a fundamental of contemporary marketing, the 80/20 rule. This "rule" says that 80 percent of any business' sales come from just 20 percent of the client base.
Putting that rule into practice requires a thoroughly well-conceived, nuanced understanding of the rule and how it can be most richly interpreted.
Hughes gained her expertise in marketing and strategy over a 20-year career in both the financial and marketing arenas. Most recently, as Director of Gold Crown Club, Best Western International's worldwide loyalty program, she developed programs that grew active membership in Gold Crown Club from 300,000 to more than 1.2 million members within a two-year period.
As Associate Manager of Business Partnerships with America West Airlines, Hughes increased revenues through partner relationships from $6 million to $22 million within 18 months.
At Eighty-Twenty Marketing, she's working with Ann-Marie Roybal. Roybal, who's most recently worked as Marketing Services Manager for Esscentual Brands, a consumer goods company that owns both Vitabath and Claire Burke brands, is Eighty-Twenty's Client Services Director.
Her extensive background in print communications, creative services and project management will provide clients with highly effective collateral and market research direction, including gift card program implementation.
"Loyalty programs can be an extremely important component of a company's marketing strategy," Hughes said. "Eighty-Twenty Marketing can not only help identify the best tactics for launching and maintaining an effective loyalty program, we'll also work with clients in evaluating brand identity effectiveness and refining their strategic marketing plans for maximum impact."
In addition to creating comprehensive multi-media plans, Eighty-Twenty also provides market research and campaign measurement.
"Well-rounded marketing strategies both follow and exploit the 80/20 rule so that all segments of the potential market are reached with the most effective messages to help drive sales and grow volume. It's an approach that leaves no potential unturned, and one that I believe offers the richest possible market penetration," Hughes said.
Her unique approach allows for extraordinarily creative techniques in developing loyalty programs with real meaning for her clients and their customers
Eighty-Twenty Marketing can be reached at (602) 725-8723 or online at
www.8020marketing.biz
.
###