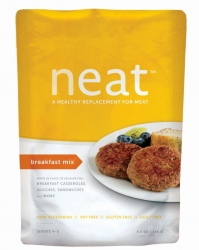 Lancaster, PA, February 18, 2014 --(
PR.com
)-- Today, neat™ foods announced the launch of a new vegetarian meat replacement breakfast mix derived from all-natural, gluten and soy-free ingredients such as pecans, garbanzo beans, and gluten-free whole-grain oats developed to mimic the flavor profile of sweet-yet-savory maple breakfast sausage. Hitting the shelves in mid-2014, the breakfast sausage alternative will be available nationwide online and in select grocery stores throughout the country.
"We are excited to be able to provide consumers with a meat-free meal solution for breakfast. This new flavor will give an ever-growing market of meat-free consumers the opportunity to enjoy healthier versions of their favorite recipes for the most important meal of the day," says neat Vice President of Sales and Distribution, Gavin Mutter. "There has been consistent growth in this category and we are one of the first companies offering nutritious meat replacement options that are also gluten and soy-free using ingredients consumers know, and can actually pronounce. Demand for these products will only continue to grow in 2014 and beyond, and we have plans to meet this demand through ongoing innovation."
A shelf stable product, the neat breakfast mix is made from a combination of all-natural, additive-free and wholesome ingredients that mimic the texture of ground sausage when combined with water and two eggs (or vegan eggs) before browning in a non-stick skillet. A 5.5 oz. pouch will retail for $4.99, comparable to one pound of ground sausage when prepared – making it an easy replacement in popular family-friendly breakfast recipes like breakfast burritos, casseroles, quiches and sausage gravy. The mix can also be formed into the shape of patties to be served in breakfast sandwiches and alongside favorites like French toast, waffles and pancakes.
The gluten and soy-free breakfast meat alternative is the latest in the company's line of meat replacement mixes launched in 2013, including Original, Italian, and Mexican flavors. New in 2014, neat's meat replacement mix will be available in the foodservice channel to accommodate restaurants looking to offer vegetarian and vegan dining options to their patrons. The company also expects to have a line of unique frozen products fully developed by the end of 2014.
For more information about neat, please visit www.eatneat.com.
About neat Foods
Neat offers all-natural, gluten and soy-free meat-replacement products to consumers who are looking to reduce or eliminate meat in their diets without sacrificing their favorite recipes. Neat Foods was founded in March of 2012 and continues today with four shelf-stable flavors including Mexican, Italian, Original and Breakfast Mixes. Their products are produced by VisionCorps, providing employment and rehabilitation services for the blind and visually impaired.