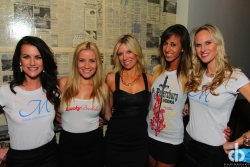 San Diego, CA, February 27, 2014 --(
PR.com
)-- Mirus Promotions, a marketing company providing professional brand ambassadors who drive sales for new or existing products or services in multiple industries, is proud to announce its five-year anniversary. This accomplishment, celebrated on Feb. 13 at the Uptown Tavern in Hillcrest, is especially rewarding for President Julie Seal, who established the company after finding it necessary to "reinvent" herself after losing her elementary school teacher position due to budget cuts.
Recognizing a need for brand representatives who are approachable, knowledgeable and skilled in sales, Seal started Mirus Promotions in 2009 to provide exceptional support for clients' experiential marketing campaigns, choosing the Latin word for extraordinary as its name. From its humble beginnings as a sole proprietorship with one San Diego client, the company has seen sales growth of over 250% and now has four area managers; a social media manager; a team of logistics leads in major metro regions in 13 states; and almost 300 articulate, poised, sales-oriented independent contractors working at any given time.
"It has definitely been a labor of love to grow this company while providing a much-needed service to clients and creating jobs for so many people," Seal said. "I find it's true that when one door closes, another usually opens up—and you just have to have the courage to step through it."
In 2013, Mirus Promotions brand ambassadors executed more than 1,500 events and promotions. Despite all that activity, the company participates in at least one non-profit event in San Diego per quarter, and Seal is a regular volunteer at The Rescue House and part of the Mentor Program at her alma mater, SDSU.
Mirus Promotions plans to continue to grow nationally, providing quality representation across the country; maintain and grow its "edge" as the most extraordinary experiential marketing agency; and build on strategic partnerships with brands, retailers, and companies to increase their return on investment and ensure their marketing dollars are well spent.
About Mirus Promotions
Mirus Promotions provides extraordinary, personalized, professional assistance to companies and brands seeking exposure for their products or services that leads to increased sales. The company creates, supports, and executes unique campaigns for conventions, trade shows, charity events, bar and restaurant promotions, in-store demonstrations, and corporate functions—using face-to-face interaction to build customer trust, knowledge, and loyalty. To learn more, visit http://miruspromotions.com.