Epicure Digital Announces Its New "Pick 3 Customize Your School Nutrition" Program for K-12 School Food Services
School menus and nutritional information appear on digital menu boards, dry erase boards, printed menu boards, smart phones and tablets, school websites and on smart boards in the classroom. There is no additional charge for viewing menu and nutritional information on smart phones.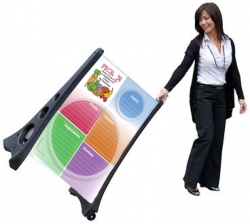 Beverly Hills, CA, March 01, 2014 --(
PR.com
)-- Epicure Digital, a leader in digital menu boards and dry erase boards for K-12 schools announces its new 'Customize your School Nutrition' program with ready to go graphics for school nutrition programs such as 'Pick 3 Stars', 'Pick 3 Diamonds' and 'Pick 3 Rockets', as well as a custom program to allow schools to use their own 'Pick 3' icons.
These Pick 3 programs can then appear across all platforms – on Digital Menu Boards, on Dry Erase Boards, on Printed Menu Boards, on Smart Phones and Tablets, on menus appearing on School Websites and on Smart Boards in the classroom.
"Additionally, our recently announced collaboration between Epicure Digital and SchoolMenu.com," explained Harvey Friedman, President and Founder of Epicure Digital "provides school districts with the ability to publish on all existing and future digital signage on campus using a single interface."
This collaboration will allow parents and students to view at no additional cost to school food services and parents, their menu and nutritional information on smart phones, in English and Spanish, without signing up for newly established services that charge for viewing school nutrition menus and nutritional information on smart phones.
For districts that prefer smartphone apps, schools will be able to provide a dedicated app to students and parents for viewing school menus with their nutritional information in English and Spanish on any device.
"Schools can now fully meet the USDA requirements to identify food items for lunch and breakfast in any school service line – indoors and outdoors," explained Mr. Friedman. "The Epicure Digital System is very affordable. Any size school district can easily and quickly build their own program, and have students and parents view menu and nutritional information on all digital boards, dry erase boards, smart phones and smart devices, on school websites, on smart boards in the class, and on any digital screen on campus."
"Furthermore, with the new Smart Snacks legislation about to be implemented," continued Friedman, "School districts are confronted with a challenge to keep Smart Snacks (a-la carte) revenues from declining. With our SchoolMenu collaboration, a district will now be able to promote Smart Snacks across all media, assuring every student and parent is provided with multiple ways to view their menu choices, thereby helping to keep and increase school lunch revenues and participation rates."
Epicure Digital has recently expanded its MyPlate Dry Erase Board product line significantly as displayed on http://www.myplatemenuboards.com/myplate-dry-erase-boards.html
Highlights of the Epicure Digital MyPlate Dry Erase board product line include the 'MyPlate Dry Erase Menu Board on Wheels' and 'MyPlate A-Frame on Wheels' http://www.myplatemenuboards.com/myplate-on-wheels.html. Lunch and breakfast menu boards can be displayed back to back on both products. When students enter the cafeteria they can see the breakfast menu, and when leaving they can see the lunch menu, and vice versa. Boards are printed utilizing an advanced printing process with UV ink for outdoor and indoor usage, and are built to last for many years.
The new Epicure Digital 'Front of Line' dry erase board program http://www.myplatemenuboards.com/front-of-line.html includes Free Standing Front of Line boards, Front of Line Magnetic boards, and Front of Line boards with suction cup mounts to display menus behind glass inside the cafeteria and for schools that serve food outdoors. Using the Magnetic 'Front of Line' Dry Erase Boards, breakfast and lunch menus can be swapped very easily and quickly.
More information on the various dry erase boards and ordering forms are available on http://www.myplatemenuboards.com/myplate-dry-erase-boards.html .
When menu information is displayed on menu boards in front of serving lines, schools meet USDA requirements to identify food items for lunch and breakfast and explain how to select food items to make every meal reimbursable.
Epicure Digital participate in all major School Nutrition events including SNA LAC 2014 in Washington DC; Georgia GSNA 2014 in Jekyll Island, Florida; FSNA 2014 in Orlando; Texas TASN 2014 in San Antonio; SNA ANC 2014 in Boston; and, California CSNA 2014 in Sacramento.
Epicure Digital clients include K-12 schools, colleges and universities, hospitals, independent and chain restaurants, contract food service companies, business & industry, and cinemas and casinos among others.
The company's websites: http://www.EpicureDigital.com and http://www.MyPlateMenuBoards.com display an extensive portfolio of its client's menu board projects.
For more information, contact:
Tommy Orpaz
(t) 310-652-8246 x 3
(c) 310-795-6688
torpaz(at)epicuredigital(dot)com
Contact
Epicure Digital
Tommy Orpaz
310-652-8246
www.epicuredigital.com

Contact