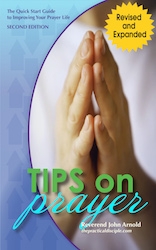 Texarkana, TX, March 05, 2014 --(
PR.com
)-- Inspirational blogger and pastor Rev. John Arnold, created the ebook "Tips On Prayer, The Quickstart Guide to Improving Your Prayer Life" out of his own frustration with what he saw as a lack of practical prayer training in most churches. He says, "In all of my years of reading books, attending retreats, and workshops I have never seen anyone offer a systematically way to evaluate your prayer life."
Arnold's fills that void by breaking prayer down into just five easy to understand aspects that he calls "The 5 Pillars of Life-Changing Prayer." Those aspects are consistency, breadth, depth, integration, and focus. In "Tips On Prayer," he offers the readers questions to help them evaluate their prayer in terms of the five pillars. Arnold then packs the rest of the book with 20 best practices reader's can chose from to strengthen specific prayer pillars.
The book has the obvious fingerprints of one who practices what he preaches. With numerous stories and examples from his own experiences, Arnold removes the guesswork from how to pray and offers rapidly applicable guidance to a deeper prayer life. The book ss an invaluable resource for both veterans and newbies. The timeless best practices will meet and challenge readers in every stage of their prayer journey.
Currently, "Tips On Prayer, The Quickstart Guide to Improving Your Prayer Life" is available exclusively at Amazon.com as a kindle download. Readers can download it for free at http://amzn.com/B0096RI0OG until March 5th, after which it will return to its regular retail price of $2.99.
About John Arnold -- Rev. John Arnold, speaker, author, pastor, and blogger, has been mentoring people in spiritual growth for over 25 years. Thousands of people have spiritually benefited from his instructional blog, The Practical Disciple. Arnold is available for interviews and appearances. For booking presentations, appearances, and/or interviews call 1-903-908-5489