Accredited Online Colleges Website is Now Mobile-Friendly
Accredited-Online-Colleges.com has now been updated with a mobile responsive website design. This helps visitors get more information about the online degree program or online college they are looking for.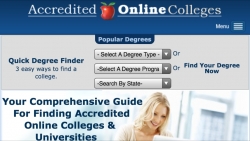 Orlando, FL, March 06, 2014 --(
PR.com
)-- For 11 years the Accredited-Online-Colleges.com website has been helping potential students find the right degrees and colleges that will help them get ahead in the career of their choice.
The website is designed with visitors in mind because it's simple to navigate and provides visitors with a clean path to get more information about the
online degree program
or
online college
they are looking for.
Yet the organization wanted to make it even easier for their website visitors to search for schools and degrees using their phone or mobile device, so Accredited-Online-Colleges.com has now been updated with a responsive website design that makes it even more mobile-friendly.
Once visitors land on the website using their smart phone or tablet, the website will automatically recognize the device and display a design that is responsive and easy to use. The visitor can easily search for degrees and accredited schools and have the results populate quickly on their mobile device.
Since the new design is so mobile-responsive, searching for a degree type such as associate, masters, bachelors and PhD, or a degree program such as accounting or health care, can be done with a few quick swipes of the fingertip.
When a visitor selects a degree program, it will automatically go to the degree page and list the different accredited schools that offer that particular degree program. From there, visitors can easily click to request more information from the school of their choice.
With absolutely no commitment or cost, potential students can receive the information they need from various accredited schools to help them make the right choice to reach their educational goals.
"We made the website more mobile-friendly because more people are using their smartphones and tablets as their primary search device. According to industry statistics, 50% of mobile phone users use mobile as their primary Internet source. And our own research backs this up. After looking at the analytics for Accredited-Online-Colleges.com, in the last 30 days, 23% of visitors to the website visited it from their mobile device instead of a computer," said Scott Lambert, President of Xcellimark, the Digital Marketing agency that is responsible for the website's mobile-responsive design.
With all of the new design changes implemented, Xcellimark has helped Accredited-Online-Colleges.com produce a website that helps visitors feel more confident about searching for their educational and career needs from the convenience of a mobile device.
About Accredited Online Colleges
Accredited-Online-Colleges.com is a comprehensive directory of online education resources and accredited colleges and online degrees geared toward working adults interested in preparing for better job opportunities, reaching their educational goals, and improving the quality of their lives in general.
Contact
Xcellimark
Scott Lambert
407-327-3062 ext. 210

Contact