Introducing Personalized Pooch, Customized Clothing for Dogs
Fashion Pet, a division of Ethical Products, has added a new category to pet fashion with their 'Personalized Pooch' custom T-shirts for the dog that has something to say.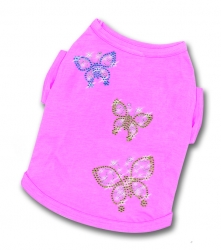 Bloomfield, NJ, October 02, 2007 --(
PR.com
)-- Fashion Pet, a division of Ethical Products and maker of Spot brand pet toys and accessories is causing great excitement within the pet products industry with its new line of personalized T-shirts for dogs called, Personalized Pooch. This new take on pet fashion, exclusively designed by Fashion Pet, adds iron-on rhinestone decals to short sleeve doggie tees with just the quick press of a household iron. Personalized Pooch will make its global launch at the HH Backer trade show taking place in Chicago on October 12th through the 14th. Personalized Pooch will be located on the 2nd floor in booth 4472. "We have done some shows for local distributors and have seen the Personalized Pooch program get an overwhelmingly positive reception, so we are very excited for the HH Backer show!" states Anna Pereira, Head of the Fashion Pet Division and designer of the Personalized Pooch
dog clothing
line for Ethical Products, Inc.
Personalized Pooch is the latest evolution in fun fashion for dogs. "Custom T-shirts have been around forever, and decaling is something almost everyone has done to a T-shirt or a pair of jeans," states Anna Pereira. "The pet industry, until now, has not seen such a program where you can buy decorative decals and customize a T-shirt for your dog."
Personalized Pooch boasts adorable and creative rhinestone decals that can transition from doggie tees to human fashion accessorizing. Owners can even accessorize their own clothes with the Personalized Pooch decals to match with their beloved pooch, provided the garment is 100% cotton or cotton blend.
Personalized Pooch is such a versatile program, allowing merchants to sell the decals and T-shirts separately, custom make T-shirts in their store, or even host in-store events where customers come for an afternoon and design their doggie tee as well as decorate their own jeans or T-shirt with Personalized Pooch iron-on decals. This is a truly unique product for the pet industry. Pet store merchants have expressed their delight in the opportunity this product line affords them in being able to offer a truly new and unique product to their customers.
Although fashion shows require excessive planning and financial cost, the Personalized Pooch line of T-shirts and rhinestone iron-on decals allows for a low-cost interactive in-store program with the potential for building a "community" of loyal customers through an interactive crafting event.
Personalized Pooch T-shirts are available in blue, pink, black and white with iron-on rhinestone decals featuring stars, butterflies, crowns, fire hydrants and more. Sizes available are extra, extra small, extra small, small, medium, large and extra large and 28 assorted decals are available in the line. T-shirts are cotton blend and applying decals are as simple as pressing down with any household iron. Decaled shirts are 100% machine washable and will last wash after wash.
The Personalized Pooch line will be available in stores by November 2007, just in time for the holiday season.
About Ethical Products
Ethical Products, Inc. is a privately held company with a stellar reputation in the pet industry for over fifty five years, and one of the pioneers in the pet accessories business. For nearly twenty five years Fashion Pet, a division of Ethical Products, has brought quality and fashion to the pet industry with their clothing line for dogs.
For more information regarding Personalized Pooch and Ethical Products, Inc. contact Anna Pereira at AnnaP@EthicalPet.com and visit
http://www.ethicalpet.com
.
###
Contact
Ethical Products, Inc.
Anna Pereira
1-800-223-7768
www.ethicalpet.com

Contact