New Tour Floats Motorcycles Into the Heart of the Amazonian Rainforest
"High Andes, Deep Amazon" Tour Goes Where Roads do Not.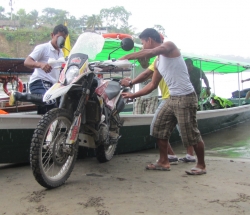 Quito, Ecuador, March 11, 2014 --(
PR.com
)-- Starting on May 4th, motorcycle tours in Ecuador will take on a new dimension: riders will no longer be limited to the country's astounding roads and trails. Ecuador Freedom Bike Rental & Tours is introducing its newest guided motorcycle adventure – the High Andes, Deep Amazon Tour. This amazing experience is the latest of several guided and self-guided motorcycle adventures offered by the Quito-based tour operator and will take riders where no roads go: deep into the heart of the Amazonian rainforest.
The
High Andes, Deep Amazon Tour
is a ten-day, all-inclusive, guided, dual-sport motorcycle adventure that departs from, and returns to, the magnificent UNESCO World-Heritage city of Quito. The mostly unpaved portion of the route brings riders and their motorcycles to heights of over 15,000 feet, through pristine rainforests teeming with wildlife, pass active volcanoes, under roaring waterfalls, and into isolated indigenous villages that few people ever dream of visiting. Riders will gain insight into how native Ecuadorians have lived for centuries in Andean mountain communities where farming still relies on muscle power and in Amazon-basin communities where hunting is still done using poison-frog darts and blowguns.
At the end of the day riders will be soaking in a volcanic hot spring at high altitude; partying in a Colombian border town on another, and even falling asleep in the Amazon jungle while listening to the flow of the Napo River. However, there's no roughing it: this journey features private accommodations and specially selected dining. This is no ordinary tour, but an adventure that will create memories to last a lifetime.
The riding is not highly technical but, in order to have a successful trip, riders are required to have a certain amount of stamina and the "expedition mentality" that's essential for working as a team.
Most of the tour is on unpaved roads, which are required to reach very special places, such as the El Angel National Park, home to the strange frailejón plant and high-altitude mineral lakes. This trek takes riders to the top of the active GuaGua Pichincha volcano, provides a stay at a first-class wilderness lodge on the Western Slopes, and climbs to the town of Salinas–famous for its Swiss cheeses and chocolates—high in the Andean páramo. Then it's the thrill of paved twisties as riders tackle the "Avenue of the Volcanoes," known as one of South America's most exciting motorcycle roads.
When the roads end, riders will load their motorcycles into motorized canoes and, accompanied by a native guide, navigate over 100 miles deep into the Amazonian rainforest. This is a unique opportunity to learn about a disappearing way of indigenous life that is in tune with the rhythms of the forest and river. Riders will disembark and continue their motorcycle journey, climbing back into the Andes through the untouched cloud forests along the Colombian border before returning to Quito.
"We expect the High Andes, Deep Amazon tour will continue to place us on the world map for adventure motorcyclists," states Court Rand, owner of the Quito based motorcycle tour operator. "It will attract adventure riders who are seeking that rare combination of back-country exploration and comfortable accommodations."
The first departure is set for May 4th with a second set for December 4th, 2014. Interested adventure motorcyclists should contact Ecuador Freedom Bike Rental for more information.
About Ecuador Freedom Bike Rental
Located in the historic capital city of Quito, Ecuador Freedom Bike Rental is the country's first motorcycle tour operator. Working with local, professional guides they design and outfit tours for adventure enthusiasts who wish to explore Ecuador on two wheels. They are open 7 days a week and provide full-service rentals of mountain bikes, motor scooters, and motorcycles at reasonable daily and weekly rates.
For more information:
FreedomBikeRental.com
Contact
Ecuador Freedom Bike Rental
Court Rand
1-603-617-2499
http://FreedomBikeRental.com
In Ecuador +593 (02) 250-4339

Contact