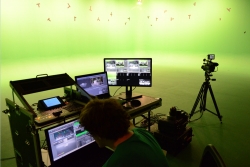 Burnaby, Canada, March 12, 2014 --(
PR.com
)-- Animatrik Film Design announced today the expansion of its Virtual Production services offerings through the addition of the first Solid Track system in North America. "Solid Track is great addition for us," states Brett Ineson, President of Animatrik, who goes on to say, "It's a perfect complement to our range of performance capture solutions we have developed for shooting on location and outdoors."
Animatrik is further enhancing its SolidTrack system with Ultimatte Real-time Chroma keying; Encodacam lens encoders from General Lift; and two high performance Autodesk MotionBuilder systems. The result will deliver a solution capable of visualizing CG characters, sets and props in real-time, with support for camera zooms and minimal latency while shooting live action.
"SolidTrack has been developed over many years by SolidAnim in Paris, France," Isaac Partouche, CEO of SolidAnim commented, "The system draws on our extensive expertise in Visual Effects and Film and our goal is to offer producers and filmmakers a new approach to film production, where they could visualize computer graphics in real-time, through the camera viewer."
About Animatrik Film Design. (www.animatrik.com) Based in Vancouver, British Columbia, Canada, Animatrik is a leading provider of motion capture, previsualization and virtual cinematography services. With one of the largest motion capture sound stages in the Pacific Northwest, and an expert team of technicians and visual effects artists, Animatrik is a proven provider of stage and location based motion capture and virtual camera services, with film and games credits which include Elysium, Warm Bodies, District 9, Splinter Cell: Blacklist, Thief 4, Crysis 3 and Mortal Kombat Legacy.
About SolidTrack (www.solid-track.com) SolidTrack is a complete Previs solution which track the camera position of any camera in real time and integrates a computer graphics preview in the film camera view. The system records Previs video elements with embedded time code, allowing the editor to start working on shots the same day. Among its features, SolidTrack collects valuable technical data for post-production, such as camera tracking data, set and virtual camera positions and animations. This data can subsequently be exported in formats which are compatible with industry standard match-moving software.
For more information please contact Bruno.Sargeant@Animatrik.com