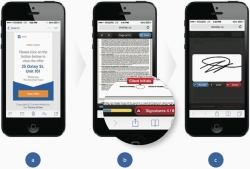 Toronto, Canada, March 12, 2014 --(
PR.com
)-- RE/MAX Realty Services Inc. continues to lead the market in technology, the first to adopt in Peel Region, DealTap™ 's new paperless real estate transaction platform. DealTap™ 's platform is considered a Game Changer in the industry, with its cutting edge technology. The platform enables home buyers and sellers to negotiate a deal more efficiently, online, on any device, while reducing their eco footprint, and increased convenience.
The real estate industry has often been frowned upon for the amount of paper waste in a typical transaction. The average home sale yields 100+ pieces of paper. Not only is the paper usage the only issue that can be updated, but likewise, the entire process has been made digital, to allow for a greater level of convenience for all parties involved. DealTap™ is a patented platform that is timed to launch with Ontario's new Electronic Commerce legislation that will be taking effect in the summer of 2014.
"They had me at 'Hello'! As soon as I saw it, I fell in love with it. It is a leap ahead of all other technology products on the market- and one that our agents would embrace," said Mike Zuccato, Broker Owner of RE/MAX Realty Services in Brampton. "I know that with early adoption of tools like this - we not only lead the market, but also continue to win. My team looks to me to equip them with the best tools, insights & trends to keep them at the front of the pack. With that in mind, I built a partnership with DealTap™ - and ensured that we had a first to market launch in Peel Region."
As the housing market continues to be strong in Canada, and across North America, agents will need to meet the demand of today's consumer. Approximately 80% of home buyers used the internet in their home search. New home buyers are constantly connected to their smart-phones, tablets or computers thus an online transaction platform is necessary to keep up with demand and increase customer satisfaction.
DealTap™ is on a mission to revolutionize the industry, in terms of how transactions are completed, and reduce the eco footprint along the way. The platform itself was developed in the hottest real estate market, the greater Toronto area, by working from the ground up with local realtors. The outcome is a fully digital experience, from start to finish intuitive, engaging for all parties where they live- on their PC, tablet or smartphone.
"The need for an online transaction platform was very obvious to anyone who has ever purchased, sold or leased a property. We needed to introduce something that would win strong adoption and acceptance - so far feedback from those exposed to it early on - indicate that it will receive that acceptance at a rapid pace," said Zoran Vukasovic, Managing Partner of DealTap™ . "We are very excited to be launching with key market player like RE/MAX Realty Services. Not only did Mike, jump on it, he espoused it to others immediately, it shows a visionary leadership style, and a generous motivation to evolve the industry itself. As such, their team is an ideal partner for us, one who innovates, leads by example and generates goodwill," continued Zoran.
DealTap™ will continue it's rollout throughout the following months, with early adopters throughout Ontario, and Canada.
About DealTap™
Headquartered in Toronto, ON, DealTap™ is transforming the real estate industry by providing its digital 'Transaction on Rails™' technology, where any Real Estate agent can generate, sign & negotiate agreements. The innovative DealTap™ solution is a patented, cloud-based platform that lets users add, amend, and sign documents digitally - anywhere. Instead of a typical an 'e-signature' solution, DealTap™ is a true workflow tool that helps the negotiation process for all parties involved - mimicking what agents are used to with the traditional paper process, but without fax machines or any of the drawbacks. DealTap™ 's mission is to become the new standard in the industry for real-estate transactions, providing a leading-edge platform to the challenges of security, efficiency and operating costs in real estate industry.
To learn more about DealTap™ visit www.DealTap™ .ca
About RE/MAX Realty Services Inc.
RE/MAX Realty Services Inc. is a pioneer of the RE/MAX system, as one of the first RE/MAX offices to open in Ontario in 1980 and continues to lead the industry with it's pioneering spirit. With 190 professional full time sales representatives in multiple locations across Peel Region who deliver high value, experienced negotiating skills, community support, integrity, commitment and excellence to those we service, RE/MAX Realty Services Inc. has remained the number one office in units sold in Peel Region for over 10 years in a row, thanks to the continued support and referrals of our clients. As part of the global RE/MAX network of nearly 95,000 sales associates in more than 65 countries, giving our buyers, sellers and investors global exposure.
To learn more about RE/MAX Realty Services Inc. please visit www.4561000.com.