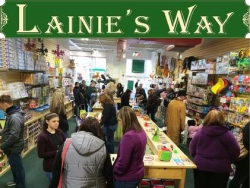 Port Jefferson, NY, March 13, 2014 --(
PR.com
)-- Without the support of their community, a unique specialty toy store in Port Jeff Village is destined to close. As a last resort to prevent their struggling business from closing, they have started an online fundraising campaign called Save Lainie's Way.
Several weeks ago, Lainie Litovsky, owner of Lainie's Way, notified some of her customers that she would have to close due to the losses the business experienced from two major floods and two harsh winters. These combined events made it impossible to catch up from their past losses and cover new expenses. Litovsky's customers implored her to ask the community for help.
Residents of Port Jeff and the communities in the surrounding area are showing their love and support for the store by using social media to spread the word about the Save Lainie's Way campaign. On the Lainie's Way Facebook page, one customer commented, "I just mentioned to my daughter that Lainie's Way might be closing and the look of devastation tore my heart out, she couldn't understand why. Lainie and her wonderful staff make Port Jeff a wonderful place for our family to live and want to be part of the community, it will be a great loss if this happens." Over the weekend, one of Litovsky's favorite little customers came into the store with her piggy bank. Litovsky says, "A four year old proceeded to recite a heartfelt speech about how she wanted to help save her favorite store, handed the pink pig to me and then gave me a big, long hug. Of course I cried like a baby. Thank you sweet Deia, for your $8.53 contribution to Save Lainie's Way!"
After two weeks, the store has raised just over $30,000. The amount they need is $89,000. When someone makes a contribution towards the campaign, it is just a commitment. You are not charged until the end of the campaign and you will only be charged if they reach their goal. Litovsky said, "If we don't reach the goal, then no one is charged and we receive nothing."
Yesterday, Lainie's Way received an offer of a dollar-to-dollar match contribution, up to $25,000. The local family who wishes to remain anonymous stated, "It's very important to us that your store not only stay open but stay open in Port Jeff. We see this as an investment in our community, and think this is our chance to make a stand against the Walmartization of our small towns."
The Save Lainie's Way campaign ends on Monday, March 17th at 11:50 pm. The fate of this ten year old little toy store is now in the hands of its community. For more information or to make a contribution, go to http://www.tinyurl.com/savelainiesway.