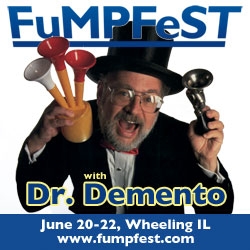 Chicago, IL, March 13, 2014 --(
PR.com
)-- Legendary radio personality Dr. Demento will be the guest of honor at FuMPFest, a new convention taking place in the Chicago area this June. Dr. Demento will be on hand to present his Festival of Dementia, answer questions, sign autographs, and host the 4th Annual Logan Whitehurst Memorial Awards for Excellence in Comedy Music.
FuMPFest is a new convention taking place in Wheeling Illinois from June 20-22 that focuses on comedy-music. 15 comedy-musicians will be on hand to perform throughout the weekend including many who have become staples on The Dr. Demento Show over the years, such as The Great Luke Ski, Dan Hart, Devo Spice, Worm Quartet, local artist Matt Griffo, and the "world's fastest filker" Tom Smith.
Also appearing will be representatives from Meep Morp Studios who raised over $100,000 last year to fund a documentary film about Dr. Demento's life and career. They will be on hand to talk about their film, answer questions, and show some early footage.
FuMPFest is being produced by The FuMP, or The Funny Music Project, which is a web site where comedy-musicians post new songs every week. Since 2007 www.thefump.com has posted two new comedy songs each week and has produced over 40 compilation CDs.
"We've talked about having a convention of some kind for a while now," says Tom "Devo Spice" Rockwell who, besides being an artist, also runs The FuMP. "Then last year when Luke Ski did the event for his Kickstarter backers we used it as a dry run and decided to do a full-blown convention in the Chicago area the following year. We're thrilled to have Dr. Demento as our first guest of honor!"
Since 1970 The Dr. Demento Show has brought "mad music and crazy comedy" to the airwaves. It was Dr. Demento who introduced "Weird Al" Yankovic to the world on his show back in 1976. In 2011 the show switched to an internet-only format and new shows continue to be produced each week. They are available for streaming at www.drdemento.com.
FuMPFest is taking place at the Westin Northshore in Wheeling, Illinois from June 20-22. Tickets are $35 until March 31st and $45 thereafter. More information and tickets are available at
www.fumpfest.com
.