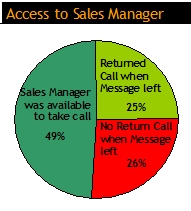 Toronto, Canada, October 04, 2007 --(
PR.com
)-- Group sales are a significant source of revenue for most hotels, yet according to a test completed by Quality Track International, hotel sales managers fail to respond to initial customer inquiries more than 25% of the time.
Quality Track International, a leading provider of group sales mystery shopping services exclusively to the hospitality industry, placed in excess of 3,000 test calls to more than 750 on-property sales departments in North America, and tracked the responses. Across all tiers and brands evaluated, a sales manager was available to handle customer inquiries just 49.4% of the time. When a sales manager was not available, a detailed inquiry message was left. Sales managers failed to respond to these messages before the end of the next business day more than 51.7% of the time.
Messages left with a sales assistant were returned at a slightly higher rate than those left on the sales office or sales manager's voice-mail (54% vs. 49%.)
Test calls were conducted on the leading 25 North American brands. Results were tracked by brand and tier (deluxe, upscale and midprice.) Surprisingly, little or no difference was found in the performance of sales managers across tiers.
Detailed results by brand and property are available to verified brand representatives.
The test parameters and process: Calls were placed during normal business hours (9:30am-4:30pm.) The test calls were evaluated, using Quality Track's Sales Manager Access and Response Time, (SMART) Track system. When the call was placed, the call handling at the property was noted as either "Spoke to a Sales Manager" , "Left a message on voice mail", "Left a message with sales assistant" or if the call was "Mishandled by the PBX operator". When a call back was received by the end of the next business day, the lapsed number of business hours was recorded. If no return call was received by the end of the next business day it was noted as "No call back received"
Brand specific information is available upon request by a brand representative.
About Quality Track International, Inc.: Quality Track International, established in 1998, is a leading worldwide provider of Group Sales, SMART Track, Reservation, Spa, Front-desk, PBX, Call Center Monitoring, and specialty mystery shopping services, exclusively for the hospitality industry in 35 countries. Quality Track has offices in Toronto, Canada and Ft. Lauderdale, Florida.
For more information contact: Mr. Donald Bundock, CEO, Quality Track International, Inc., at (416) 693-5426 or by e-mail at Don.Bundock@QualityTrack.com
http://www.qualitytrack.com/SMART/SMART_Summary.pdf
###