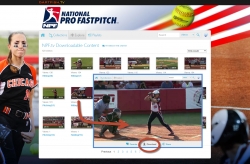 Atlanta, GA, March 19, 2014 --(
PR.com
)-- The collection contains downloadable video clips of hitting, fielding and pitching. The NPF video library can be accessed by going to Dartfish TV. To access the NPF video library, go to NPF Collections on
www.Dartfish.TV/npf
"We are proud to be able to bring reference videos of our players to consumers in an easy, searchable and friendly online platform," commented NPF Commissioner, Cheri Kempf. "In the area of teaching skills and improving players, we know that seeing is believing. We are pleased to associated with the innovative and creative Dartfish team, and we are pleased to be able to offer this video content for use in developing softball players all over the world." There are currently over 100 videos available and more will be added to the collection each week. The videos can be downloaded into the
DF Express
app, on a desktop or other devices for on and off-field use with athletes.
"We are extremely pleased to bring these videos to a large audience through a partnership with National Pro Fastpitch," stated Dartfish CEO, Victor Bergonzoli. "Dartfish strives to work with the best in the sports world and NPF is clearly a prime entity. We are very proud of the benefits we will bring to all softball players and coaches through this relationship."
About National Pro Fastpitch
National Pro Fastpitch is headquarted in Nashville, TN. The league, created to give elite female fastpitch players the opportunity to pursue a professional career in their chosen sport has operated since 1997 under the name of Women's Pro Fastpitch (WPF) and Women's Pro Softball League (WPSL). NPF is the Official Development Partner of Major League Baseball in the category of women's fastpitch softball since 2002.
About Dartfish
Dartfish develops video solutions to make the power of video accessible to millions of users and empowers them to create, analyze, enrich, publish, and monetize video content. Dartfish is trusted by thousands of sport organizations to create and distribute video content, setting the video standard across sport, education, and healthcare industries. Its video platform, http://www.dartfish.tv is today's trusted choice selected by elite organizations, federations, and corporations from around the world. Dartfish is privately held, with worldwide headquarters in Switzerland, and U.S. Headquarters located in Alpharetta, GA