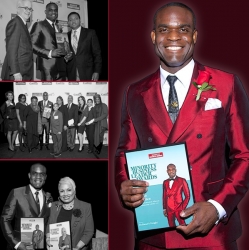 Washington, DC, March 22, 2014 --(
PR.com
)-- While awards and accolades have continued to mount for Dr. Clayton Lawrence, his company Lawrence Executive Alliance of Professionals (LEAP), LLC, and its non-profit partner organization LEAP Foundation DC, recognition for his efforts never goes unappreciated. After winning the Washington Business Journal's Minority Business Leader Award for 2014, Lawrence humbly and candidly spoke about his gratitude for the tremendous support he has received since starting his organizations and his promise to continue striving for even greater heights of excellence.
"Recognition is always meaningful," Dr. Lawrence stated, "but what is even more meaningful is the unyielding support I have received that has propelled me and my organizations into the spotlight of success. Without the support of the Washington D.C. community, my colleagues, family, and friends, neither I, nor LEAP, nor LEAP Foundation DC could even dream of making the impact that we have been so fortunate to make."
Lawrence continued stating, "As my parents always told me growing up, 'To whom much is given, much is expected.' With that, as we continue to be recognized for the work that we do, we realize that the standards of excellence will continue to rise, pushing us to go further and do more than we ever imagined. We accept this challenge graciously and are committed to showing our supporters the greatest gratitude possible by continuing our efforts with the utmost diligence, passion, and professionalism."
Many of the key supporters Dr. Lawrence so graciously thanked were in attendance at the event. Accompanied by one of his biggest supporters, his sister, Ms. Vanessa Lawrence, Dr. Lawrence was surrounded by an esteemed group of professionals and community leaders. Dr. Regina Benjamin, the 18th U.S. Surgeon General of the United States, has been a strong supporter of the work Dr. Lawrence and his organizations have been doing for several years. Mr. Neil Albert, a revered senior policy advisor at Holland & Knight, Mr. Douglas Frueling, chief editor, Washington Business Journal, Dr. Vikisha Fripp, a premier, local plastic surgeon, Mr. Lloyd Jackson, a local business consultant, Ms. Kristina Weeks, a local epidemiology professional, and Mr. Brian Edge, a senior attorney for the Discovery Channel, were all among the avid supporters of Dr. Lawrence present.
Ms. Maria Fernanda Borja, Executive Director of the Latino Student Fund, Ms. Gabrielle Urquhart, Mid-Atlantic Region Vice President of the Leukemia and Lymphoma Society, and Ms. Cora Masters Barry, Founder and CEO of the Recreation Wish List Committee, were all in attendance. The representation from these organizations symbolizes key partnerships that LEAP Foundation DC has been engaged in to help bolster support and champion each of these organizations' outreach initiatives.
Since the inception of LEAP, LLC in 2007, the company has received a number of prestigious awards. As LEAP, LLC continues to operate in a time of tremendous change for healthcare throughout the nation, Dr. Lawrence says that his firm stands committed and ready to serve. "Recognition does not mean that we have reached our ultimate goals, only that we have hit key milestones along the way. I will continue to lead Lawrence Executive Alliance of Professionals in a manner that provides quality, cost-effective healthcare to current and veteran military service members, civilians, and medical facilities around the world. The best way for me to honor those who have supported me from the beginning is to continue the work that I am doing with a fervor and passion greater than ever before."