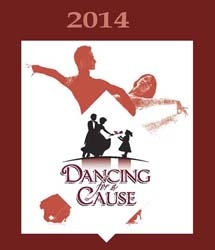 San Clemente, CA, March 25, 2014 --(
PR.com
)-- The San Clemente Sunrise Rotary announces its fourth annual Dancing for a Cause event to be held Friday, May 9th at the Historic Casino San Clemente. This event is based on the hit TV show, "Dancing with the Stars". It consists of a group of local charities each putting up a dancer to raise money and perform for the event. Each dancer, representing his or her respective charity, will be paired with a professional ballroom dancer from South Coast Dancesport and will compete for a monetary prize for their non-profit and the coveted "Top Dancer" trophy
The money raised by the Sunrise Rotary for this event will support the children's charities of the San Clemente Sunrise Rotary. The Sunrise Rotary Club is especially sensitive to the needs of the children in our community and internationally. Every year they raise funds to support the needs of youth through programs locally and around the world. The programs include; their own 7th Inning Stretch tutoring and mentoring program for at-risk youth, local high school and RYLA Scholarships (Rotary Youth Leadership Awards), Courtney's Sandcastle Universal Playground that provides fun and interactive child play opportunities regardless of their abilities, Surfer's Healing and Shea Therapeutic Riding Center for children with disabilities. They also provide food and financial support to Rancho Sordo Mudo, the only free school for deaf children in Mexico.
In addition, the club allows the dancer to add a personal charity that they strongly wish to support. This year's dancer is national surety executive, Mr. Steven Swartz. His charity for this year is Autism Speaks. Mr. Swartz said: "Many of you know, my son, Kyle, was diagnosed years ago with Asperger's Syndrome, which is now considered part of the Autistic Spectrum. Luckily, we have had the resources to get the help and support Kyle needs and he is doing great as a junior in High School and is even taking college classes weekly at the local junior college. Many families are not so lucky and have children suffering from much more severe cases of Autism."
Autism Speaks is the world's leading autism science and advocacy organization, dedicated to funding research into the causes, prevention, treatments and a cure for autism; increasing awareness of autism spectrum disorders and advocating for the needs of individuals with autism and their families
Mr. Swartz announced that he has set a goal to raise $30,000 and is seeking the public's aid. He said: "I need your help and support. Please donate whatever you or your company can. Help us reach the goal and help a lot of children in need."
To read more about the event, its charities and how to donate go to: https://southcoastsurety.com/Dancing_For_A_Cause.htm