Service Organization YRNO Wins Super Service Challenge
Service organization Youth Rebuilding New Orleans began their work in the New Orleans community right after Hurricane Katrina. They have been rewarded $44,000 for winning the Super Service Challenge.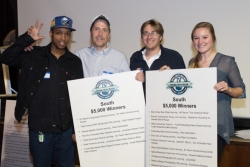 New Orleans, LA, March 26, 2014 --(
PR.com
)-- It was recently announced that Youth Rebuilding New Orleans (YRNO) was one of the winners in the Super Service Video Challenge. The service organization was awarded over $44,000 for all the good they've done for the community.
Organizations all over the city sent in videos of their work. The contest was based on each group's ability to communicate who they served, what they accomplished, their plan for an ongoing relationship with the nonprofit, and what they would do with the prize money if they won. However, the focus of the contest was less on the quality of the video submission, and more on the service that was done.
"We are so grateful to all of the volunteers and groups that participated from across the country!" said William Stoudt, Executive Director of YRNO. "The prize money helps us continue to help rebuild homes and engage youth; without it we couldn't serve the community we love. We are just so thankful!"
YRNO has actively been involved in the New Orleans community since Hurricane Katrina. The service organization was formed as a way for youths to help restore destroyed homes. After the restoration projects are complete, the homes are sold to teachers in order to stabilize the neighborhood and make a positive impact on the education system.
Over the past 9 years, YRNO has has shaped the lives of young people throughout the community by giving them a way to directly impact their own city. Whether volunteers have just joined YRNO or have been with them since the start, their feedback is the same—they love it! Winning the Super Service Challenge will allow the service organization to continue to rebuild New Orleans.
To learn more about YRNO or to inquire about volunteering with the service organization, visit them online at
http://yrno.com/
or call (504) 264-3344. YRNO's office is located at 1933 Hope Street, New Orleans, LA 70119.
About Youth Rebuilding New Orleans
Youth Rebuilding New Orleans is a one of a kind among non-profit volunteer organizations. New Orleans youth created us, we're organized by youth, and our efforts are directed at bettering the lives of our city's youth.
Contact
Youth Rebuilding New Orleans
William Stoudt
(504) 264-3344
yrno.com

Contact