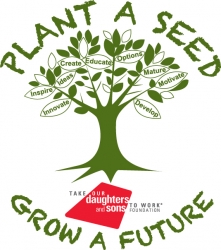 Elizabeth City, NC, March 26, 2014 --(
PR.com
)-- It is anticipated that over 35 million school children and their mentors/escorts will participate in the Take Our Daughters And Sons To Work Day on Thursday, April 24th.
The focus of this Day is to encourage confidence and self-esteem building while learning about the world of work through work related activities. In doing so, the youth will see how their education relates to workplace skills.
Understanding what their parents do at work for 6-8 hours each day is an important element. Also, seeing females and males in a variety of jobs rather than the typically stereotypical role models portrayed on television helps youth get a more realistic view of the world of work. Young people learning about the kinds of jobs and the etiquette of the workplace of today will prepare them for workplace of their future.
Youth seeing what their parents do at work also has a positive return for the parents who get the opportunity to feel pride as they show what is special about their jobs and how they do them. For most local programs, parents will have time set aside so that the child will be able to perform some aspect of the job before going to other planned activities. Having the child accompany the parent to work has become an important bonding component of the program.
Executive Director of the Take Our Daughters And Sons To Work Foundation, Carolyn McKecuen states, "Participating workplaces have the power to direct girls and boys along their life path. The activities they implement on their Day will garner results that allow girls and boys to take what they learned and apply it to their daily lives in the community, in the classroom, and most importantly in their futures. So, Plant a Seed and Grow a Future."
Find out more about us at
www.DaughtersAndSonsToWork.org
.
Contact:
Carolyn McKecuen
Executive Director
Take Our Daughters And Sons To Work Foundation
mckcon@mindspring.com
John Champion
Executive Assistant
Take Our Daughters And Sons To Work Foundation
todastw@mindspring.comwww.daughtersandsonstowork.org