The New Version of CaniVIZ 3D Pro CAD Viewer is Now Available for Macs and Windows PCs with Many New CAD File Readers
CaniVIZ 3D Pro is now able to read a lot of CAD file formats such as Catia, Pro/E or Inventor.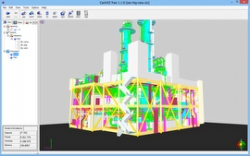 Nice, France, March 31, 2014 --(
PR.com
)-- Andéor, SAS announces the immediate availability of CaniVIZ 3D Pro 1.1.10, a CAD file viewer with many new CAD file formats, in the Mac Apple Store and the CaniVIZ Store.
CaniVIZ is a powerful 3D viewer that is able to display million of polygons in simple devices. It includes smart tools such as the interactive cut plan and offers additional functionalities. In addition, a free online workshop is available for free, allowing everybody to put and display 3D files online.
The read CAD file formats are: Acis, Cadds, Catia (v4, v5, v6), Cercon, Cerec, CGR, DCM, DXF, DWG, Colored IGES, Inventor, JT, Lava3M, Parasolid, ProCera, ProE / Creo, Solidedge, Solidworks, Colored Step, Unigraphics, VDA. They are available with optional purchases.
The free CAD reader included in CaniVIZ Pro, Light and free are: 3D Studio, Monochromic IGES, Monochromic Step, STL and WaveFront.
Information
• Apple Store: $189.99
• CaniVIZ Store: $182.99
• Version: 1.1.10
• Systems: Linux, Mac, Windows
• Information:
www.caniviz.com
Contact
• Andéor, SAS – 520 295 643 R.C.S. Nice
71, Avenue de la Lanterne – 06200 – Nice – France
Contact
Andeor, SAS
Guilhem de Wailly
33981363523
http://www.caniviz.com

Contact
Multimedia
The new version of CaniVIZ 3D Pro CAD viewer, is now available for Macs and Windows with many new CAD file readers